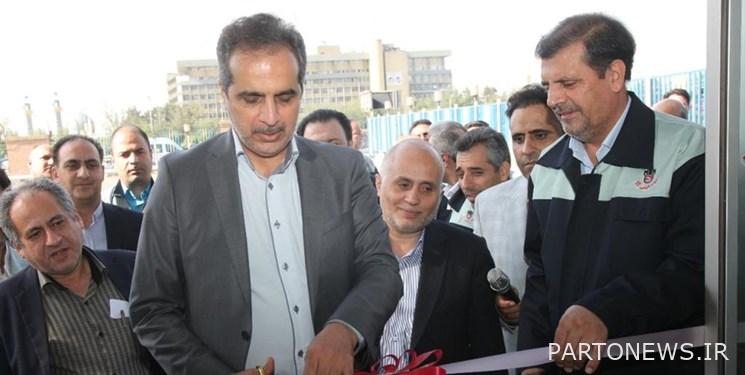 Company Newsیر Alireza Moghaddasi, Deputy Minister of Economy and Finance and Director General of Iran Customs and the accompanying delegation visited Isfahan Steel on Thursday, July 2, while meeting with the CEO and other officials of this huge industrial complex, at the opening ceremony of the new Zob Customs building Iron participated.
Dedicated customs Isfahan steel company Is the first customs dedicated to the country's production units, which began operating in the fifties at the time of the establishment of this company, and now the major import and export of steel is done through this.
The Director General of Iran's Customs said at the inauguration ceremony of the new building of Isfahan Zobahan Dedicated Customs: "This company is a hard-working and powerful group in the country's industry, which has played an important role in currency exchange with the significant export of its products."
He added: "Customs, as a government institution, has the duty to fully support production and must act in such a way that there is no interruption in the country's production, and therefore we use all legal capacities to cooperate with industries, including Isfahan Steel."
Moghaddasi stated: "Customs is next to Isfahan Steel because we consider this company as a support for the country's industry and its activists are in fact martyrs who fight against economic sanctions."
The CEO of Isfahan Steel, while praising the customs officials of the country who have given priority to supporting production, said: "This company has started a new movement in the field of sustainable supply of raw materials since last year by entering mining and processing raw materials." has done . Part of the supply of raw materials, which is supplied through imports, depends a lot on the cooperation of customs and issues related to the country's entry points, in which very good interactions have been established with customs so as not to damage production.
He pointed out that Isfahan Steel has had a good cooperation with the customs in the past decades and this cooperation will definitely be developed, adding: "Considering the surplus of steel production and per capita consumption of steel, exports are of special importance for steel producing units. The issues related to the exit points are solved through cooperation and interaction with the country's customs.
Rakhsati added: Isfahan Steel had one million and one hundred and fifty thousand tons of exports last year, which will be seriously pursued this year as well, and of course, interaction with customs has an important role in achieving this goal. Therefore, in meetings and meetings with the country's customs officials, the existing problems in exports and its solutions are examined so that through the development of exports, we can have more currency and help the country's economy.
The CEO of Isfahan Steel said: "This company has given priority to meeting domestic needs and only the surplus of production is exported, the resulting currency is also spent on importing raw materials and equipment, which in practice is very necessary to maintain production."
The new building of Isfahan Zobahan special customs with an area of ​​185 meters was inaugurated with the presence of the customs officials of the country and Isfahan province and the officials of this company, which is equipped with optical fiber and is very easy in facilitating communication related to this customs which is among the top 50 customs. it is affect
End of message /
Suggest this for the front page