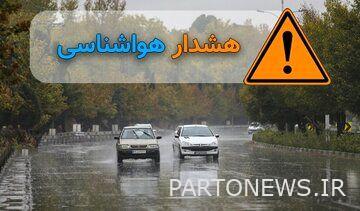 The General Directorate of Meteorology of Tehran Province warned against strong to very strong winds and dust and the possibility of a momentary storm in the province.
According to Moj News Agency, General Administration Meteorology Tehran province has issued an orange warning: strong to very strong wind, momentary gusty winds and rising dust today and tomorrow (18 and 19 September) in Tehran province and on Monday (20 September) in the west and semi-southern regions and high altitudes, especially in the northeast. will be
In these weather conditions, temporary reduction of visibility and air quality, impact on equipment sensitive to dust, falling of objects from a height, possibility of damage to equipment located at a height such as power transformers, electricity and telecommunication towers and high construction equipment such as high cranes and temporary and loose structures Like scaffolding and advertising banners, breaking old and worn out trees and saplings, damage to the cover of greenhouses, especially on Sunday, the possibility of a momentary storm is not far from expected.
The General Directorate of Meteorology of Tehran province, in this weather situation, refrain from the movement of elderly people, children and those suffering from heart and respiratory diseases, do not climb to heights, strengthen weak and temporary structures, observe safety tips for scaffolding and equipment located at height and construction equipment. It is recommended to refrain from placing in high places such as scaffolding, ensuring the strength of temporary and loose structures and advertising banners and awnings, not driving past the aforementioned structures, avoiding parking next to trees, and the readiness of rescuers and related organizations. .