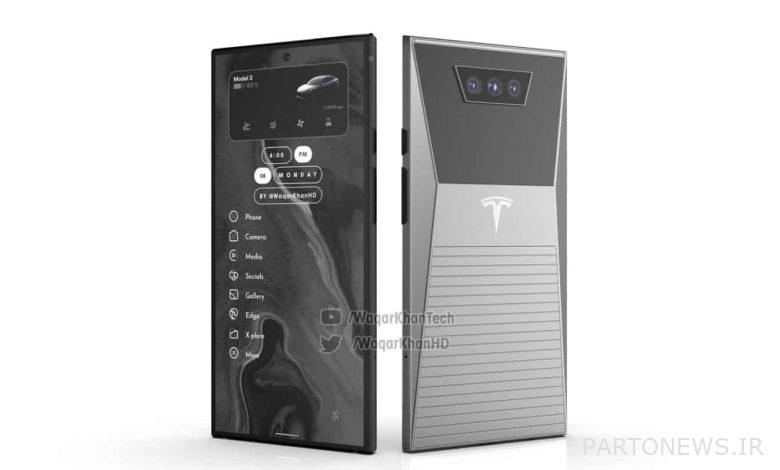 For a long time, we have seen rumors about Tesla's entry into the smartphone market, until some time ago, for the first time, the CEO of this company, Elon Musk He raised the possibility of making such a product. Now, regardless of whether it is possible to implement this matter or not, witness the publication of the concept plan Tesla Cyberphone We are inspired by the controversial Cybertruck van.
This concept phone has a different design compared to the products in the market, and for example, its main camera is placed inside a module with a different design. In addition, the back panel is inspired by the Cybertruck van.
Tesla Cyberphone concept phone
Back panel this device The design has two colors, and in the lower part, the large Tesla logo can be seen along with several horizontal lines. In front of this product, like most of today's phones, there is a large screen with a small border, in the center of its upper part, there is a hole to host the selfie camera. The screen designed by the designer of this phone is flat, unlike some Android flagships.
Since Elon Musk has said that he wants to make an alternative phone to Android and the iPhone, if he really has plans to make such a device, we have to deal with a proprietary operating system or at least a version of Android. In today's renderings, we are facing only one page of the user interface with a different design, and there is no information about its operating system.
Although this phone with its different design can be attractive to some users and if it is introduced, a number of Elon Musk enthusiasts will buy it, but it certainly cannot compete with iPhone and Android phones.
Finally, we must mention that Elon Musk said that he would do the same if the Twitter app is removed from the App Store, while Apple has no plans for this and has even resumed buying ads on this social network. Therefore, we may not face the Tesla phone at all.