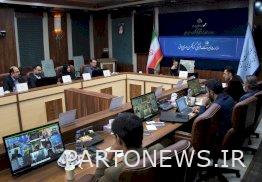 According to the report of Aria Heritage reporter, Maryam Jalali, at noon today, Tuesday, 13 January 1401, in a meeting with a number of managers and experts in the field of handicrafts, where the provincial handicraft deputies were also present in a webinar, stated this: The 36th Handicraft Exhibition and the 7th Fajr Handicraft Festival We hold it while these two events have reached maturity. Regarding the holding of these two events, we should note that how they are held depends on what is being held.
The Deputy Minister of Handicrafts of the country continued: Considering that the capacities of the handicrafts field are very high and valuable, we must play our role well in these two events and our achievements and one-year output in the 36th exhibition must be displayed in a very good way. let's
Jalali reminded: Creative ideas are very important in holding handicraft exhibitions and creative ideas should be used in holding the 36th exhibition as well. The three important missions of this ministry are related to the economic, cultural and social spheres, and these three spheres are completely comprehensive and have coordination and coherence with each other.
After reviewing and comparing the way handicraft exhibitions are held in some different countries, this official said: Good ideas and attractive programs in holding these exhibitions can be used in Tehran handicraft exhibition, and each of them can make the exhibition more attractive. handicrafts of our country. We should create a story for each booth and use the capacity of narrative art to introduce handicrafts and traditional arts.
Referring to the existence of different ethnic groups in Tehran, he reminded: the provincial administrations should be able to provide the conditions and grounds for the presence of citizens of different provinces living in Tehran to attend and visit this exhibition by creating a correct mechanism and detailed planning.
Jalali said: "The display of Iranian fashion and the use of color and art, as well as the display of the symbol of each city and province, should be considered in setting up the booths."
He added: Cultivating and persuading customers to attend and buy, expanding distribution channels and sales markets, strengthening communication between producers and distributors, strengthening communication between policymakers and the value chain, paying attention to new and innovative plans, and creating technological and media infrastructure are six important measures. And it is the basic strategy that should be considered in holding the 36th handicraft exhibition.
Jalali said: holding self-economic workshops, planning for more and better children to attend, using narrative art to introduce handicrafts, creating new uses for some old handicraft products, using collective wisdom and public opinions, connecting with online distribution channels and … is one of the other strategies that can be considered in holding an exhibition.
He further said: Fajr handicraft festival will be held in a special and colorful way this year, and my request and invitation to all provincial colleagues is to participate in this festival in a colorful way.
Jalali, referring to the formulation of three executive steps in the field of handicrafts, noted: Our third step in the field of handicrafts is the national and international registration of handicraft cities and villages. Provincial colleagues must be fully prepared in this field as well.
Referring to the simultaneous holding of the tourism exhibition, the Deputy Minister of Handicrafts of the country added: The simultaneous holding of two tourism and handicrafts exhibitions promises organizational unity and integrity in the Ministry of Cultural Heritage, Tourism and Handicrafts.
end of message/