Posted by: Moin Karimi September 20, 1402 at 13:10
Don't worry about Google Play Store being filtered in Iran. Here we present you a list of the best Android application stores.
It is an inescapable fact that all Android users are under the safe umbrella of Google Play Store. This store is installed by default on all Android phones and mostly safe and secure applications are provided in it. But this is not your only option to install the app on your phone. Especially since the Play Store is filtered in Iran and now users can hardly access it. So what source can be used to download the best offline Android games and popular programs?
The best Android app stores to compete with Play Store
There are other stores that you can use instead of Play Store to install apps. But many users don't know about them or they can't trust them. It doesn't matter if you are looking to download the best offline Android games or popular and popular applications, you can download all of them from somewhere other than the Play Store. For this reason, we decided to compile a list of the best Android application stores that are alternatives to the Google Play Store and introduce them to you.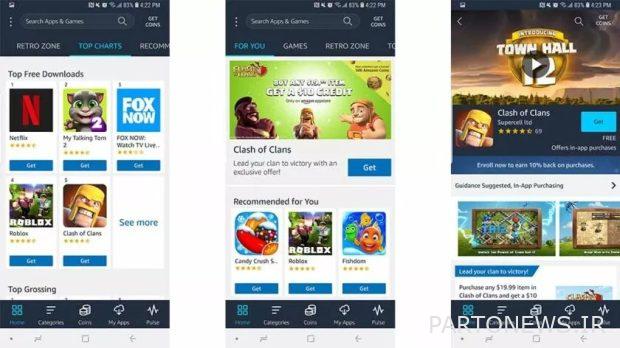 Amazon's App Store is one of the biggest and most serious competitors of Play Store. This store is also installed by default on Amazon tablets, but owners of other Android devices can also use it.
You can see and download a wide range of applications, including the most popular Android applications, in this store. All these programs are also installed on all Android phones without any problems.
The good news is that if you want to use several other stores, including Play Store, installing this software will not cause any problems for you. Although this store has its shortcomings, the benefits outweigh the benefits.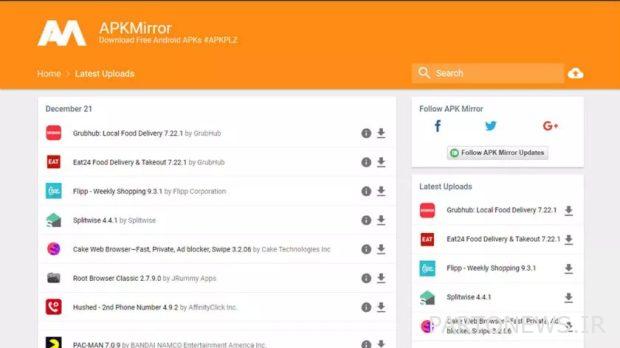 Unlike the previous case, APKMirror store is not an Android application, but actually a website through which you can download the applications you need. One of the biggest advantages of this store is the possibility to install the trial version of all applications; A version that cannot be downloaded and installed from the Google Play Store.
Of course, don't forget that when an update is released for your apps, you will have to update them again from the Play Store. Therefore, the APKMirror site can be used as a secondary source for downloading apps and games. Also, if you are looking for an older version of an app or if the new version of an app is full of bugs and you want to go back to the previous version, this is the right source for you.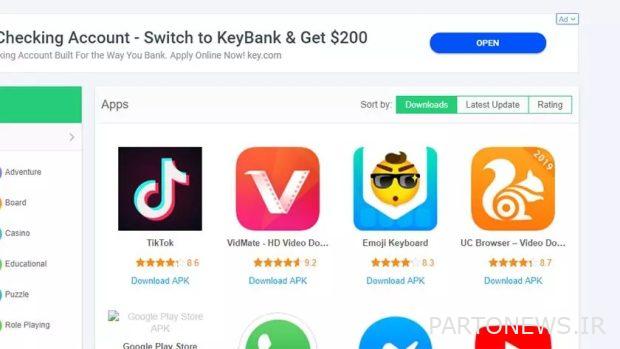 Another one of the best Android app stores is APKPure. This store hosts your popular apps like WhatsApp, Tik Tok, Instagram and popular games like PUBG. It has a very simple user interface and a great search bar can help you find the app you want.
The category of apps in this store is much more than Google Play Store, although it has fewer apps. You can also download Google's own programs such as Gmail from this source.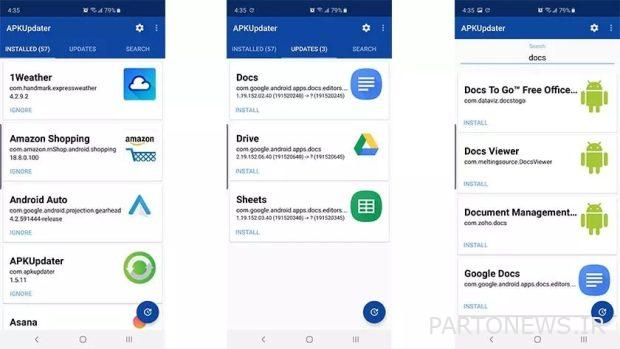 APKUpdater is not actually an app store, but it can be a good complement to the Play Store. You can use this program to update all the applications installed on your phone. This program provides multiple resources to update your apps so that they are updated at the highest speed. The user interface of this platform is also very simple so that you can immediately find the program you want without any problems.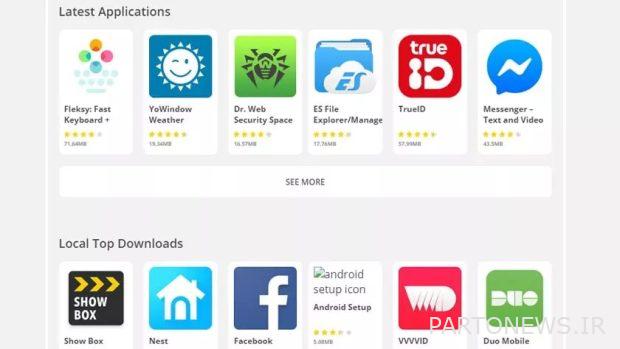 The Apptoide store is one of the oldest app stores on this list. A store that offers almost all new applications in the market. You can also download Android games from this store. Although this store suffered a data breach in 2020, since you can use its services without creating an account, it poses no risk to you.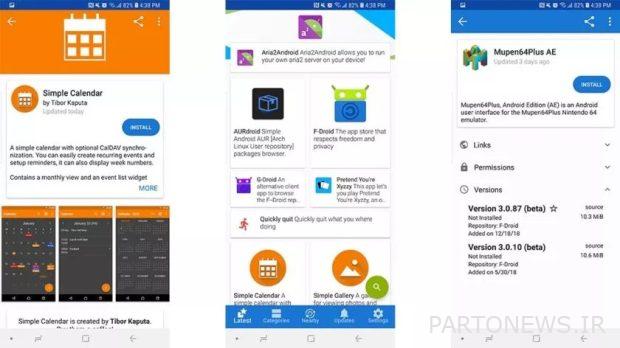 Another one of the oldest and most trusted Android app stores on this list is F-Droid. This app store is recommended for all professional users. For example, you can find programs like Arch Linux in it. Of course, there are common applications such as gallery and calendar along with several games. But its most important feature is offering programs that you cannot find in the Google Play Store.
F-Droid is an open source application and all the applications in it are also open source.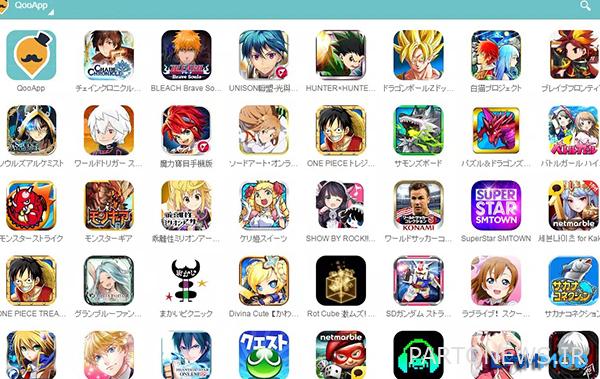 If you are looking for a place to download games made by Asian developers, QooAPP is the place to go. You can download Asian games with English translation in this store. For example, popular Japanese games such as Final Fantasy Brave Exvius are located in this store.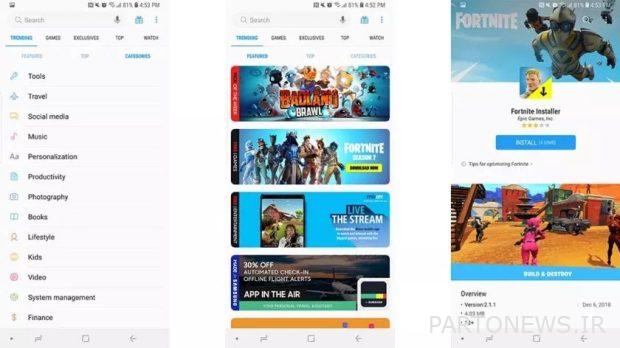 We wonder why the Galaxy Store app is only installed on Samsung phones; Because this is one of the worthy stores to download Android applications. Although the number of apps and games is less than Google Play Store, you can download the most popular apps from developers like Microsoft or popular games like Fortnite through it. So if you use Samsung phones, this store can be a powerful alternative to Google Play Store.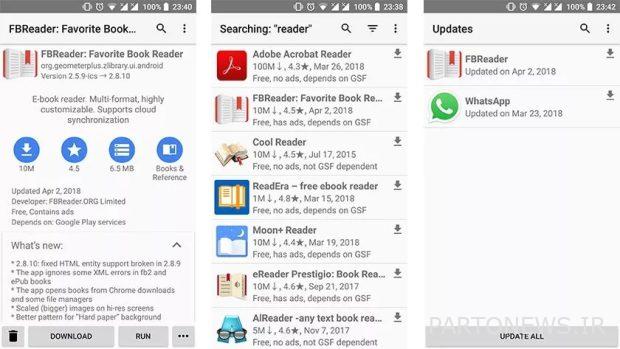 Another one of the most unique Android app stores is the Yalp Store, which allows you to download APK files from the App Store itself without the need for it. Thanks to it, you can search and download the programs you want and update the applications directly. The good news is that you do not need to have a Google account to use this program.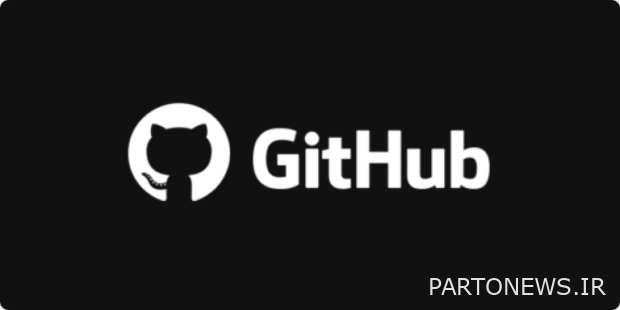 The Github website is not actually an app store, but a place to host thousands of open source projects, among which you can download Android apps with APK files directly from this site.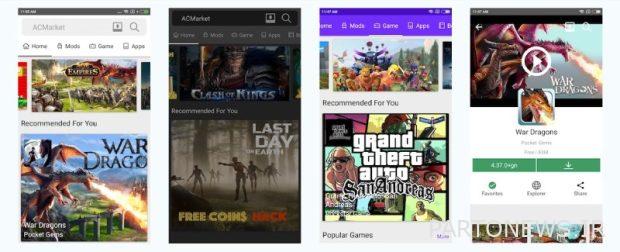 One of the best Android app stores that you can use to replace Google Play Store is ACMarket. The store hosts thousands of popular apps and games, and if you're looking for a place to download hacked and modified APK apps (like hacked Android games), you can open a dedicated account there.