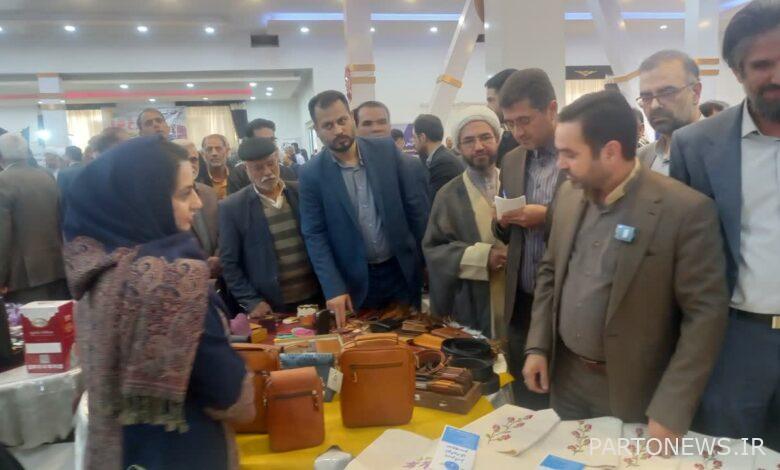 Hamid Abbaszadeh, quoted by the General Directorate of Cultural Heritage, Tourism and Handicrafts of South Khorasan, as reported by the Aria Heritage Report, said: With the presence of the Vice President of Economic Affairs of the South Khorasan Governorate, the opening ceremony of the food industry side exhibition of the transformation of agriculture, handicrafts, technical and professional sectors, knowledge-based companies of the center for the growth of technological units It was held with 45 booths at Qain Islamic Azad University on Sunday, October 30, 1402.
The head of the Cultural Heritage, Tourism and Handicrafts Department of Kainat added: Setting up a black nomadic tent was one of the other programs to commemorate the harvest of barberry and saffron.
Abbaszadeh, as the head of the organizing committee of the side exhibition, added: active export companies, 10 knowledge-based companies and activists of 25 handicraft units, in addition to 10 booths for the sale of special barberry products from Qaynat city, will be present in this exhibition, which will be open to visitors for two days.
He said: Some of the most important features and points in this festival can be described as follows: this year's Zarshak festival is for the private sector with the aim of fulfilling the slogan of popularization, role-playing and fielding of the private sector and bringing national structures together with the capacity of the province, especially agricultural products with priority. Zarshak, special attention was given to the three economic, cultural and media pillars of science and innovation in the festival with the approval of the planning and development council of the province.
The head of Kainat Cultural Heritage, Tourism and Handicrafts Department added: introducing barberry to Iranians and the world, preserving the identity role of barberry for the province, creating incentives for investment in government officials, private and cooperative sectors and food brands and activists in this field, encouraging and persuading those involved to use One of the goals of the festival is to use technology in the packaging industry, branding, processing and conversion industries, and helping the barberry market prosper.
Abbaszadeh said: Unveiling of the barberry washing line and tub machine, opening of the exhibition of barberry processing products, photo screening, painting competition, unveiling of the development plan of Nagin Shahr Kaj Technology Company, frozen packaging of fresh barberry and production of jam with a new formulation, setting up a table Export development and marketing of the chamber of commerce, farm tourism for guests in the province's gardens, visiting specialized barberry recording terminals, visiting barberry courts, ecotourism residences and tourist attractions, holding a food festival were among the programs.
Friday imams, a group of provincial general managers including the general director of cultural heritage, tourism and handicrafts, some city governors and city managers were among the guests in this ceremony and were present in the programs.
end of message/