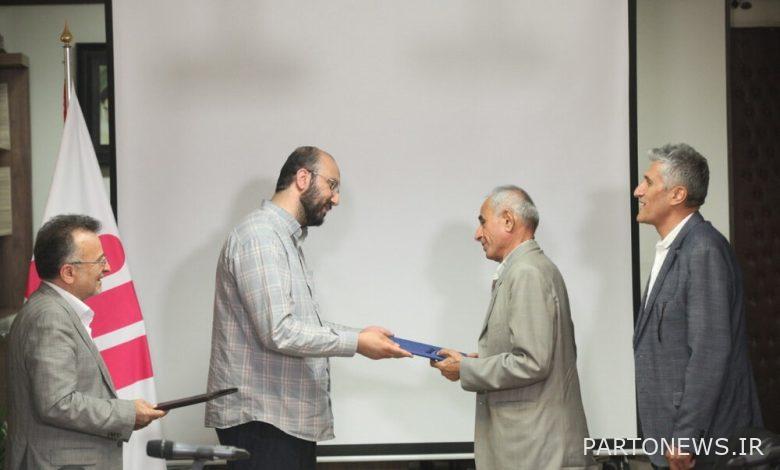 According to the Mehr news agency, quoting the public relations of Channel 3, the appreciation ceremony of veteran volleyball reporter Seyed Javad Mohtashamian was attended by Ali Foroughi, director of Channel 3, Mohammad Reza Davarzani, president of Volleyball Federation, Meysam Fazlali, director of Channel 3 sports team, Mustafa Karkhaneh, volleyball coach and veteran. Behzad Kaviani, the host of the ball and tour program of Channel 3, Vahid Moradi, a veteran of sports and television performances, Kiomars Kardeh, a volleyball expert and reporter of Channel 3, was held.
In this meeting, due to the years of effective presence of Seyed Javad Mohtashamian as a veteran, coach, expert and reporter of volleyball in the Se Sima network, he was praised.
At the beginning of the meeting, Behzad Kaviani, the host of the "Ball and Tour" program, stated: Mr. Mohtashamian was distinguished in several ways, both because he expressed his criticism very openly and recklessly, and because he never did anything for his own interests.
Ali Foroughi, the director of Se Sima, said about the atmosphere of Se Sima: Mr. Mohtashamian was in the national media for many years and was present in the sports field for more than three decades, that is, he spent a lifetime playing sports. Never any expectations Strange They did not and have always been in the field of sports and it is interesting that in the field of sports they are both university professors and athletes and coaches and analysts and reporters.
Addressing Mr. Mohtashamian, Foroughi added: "Dear Professor, I thank you for your years of struggle and effort in the field of sports, and without a doubt, this level of leapfrog space after the revolution, Mr. Mohtashamian and other loved ones have been effective."
Continuing the meeting, the referee of the President of the Volleyball Federation said: "After 1212 was the beginning of a new event in Iranian volleyball and a change in volleyball was created after this time." Reporters played a pivotal role in transmitting this transformation to people's homes. It happens with help Friends The media became possible and a group of friends in the field of media helped us to make this field prosperous among the people.
The President of the Volleyball Federation continued: "The honor we gained in the victory over the United States and Italy, and the fact that we took Russia to Russia and made Brazil in Brazil, has given a sense of pride to Iranians all over the world."
At the end of the meeting, Javad Mohtashamian stated: During these years, I just tried to show the capacities of the children to the people. دهم. I am happy that now people are expecting Iranian volleyball according to our capacities and records. I try to introduce the position of the teams to the people and, of course, the role of the youth in facing the greats of the world. In general, thank you again and thank you all dear friends.