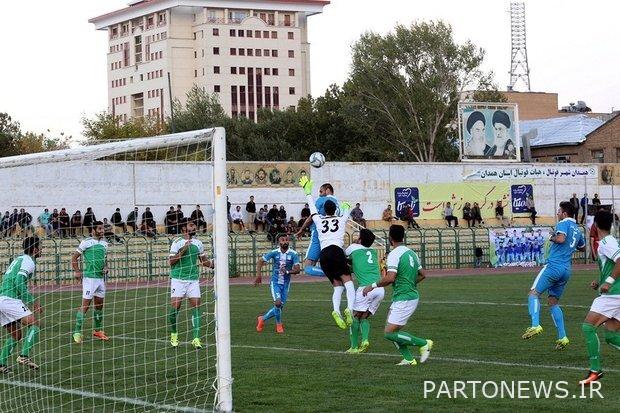 According to the Mehr news agency and quoted from the website of the Football Federation, the draw ceremony for the third stage of the elimination cup was held in the form of a webinar (in person) in the public relations hall of the league organization, with the presence of Amirhossein Roshanak, the head of the elimination cup, Mehrdad Shafiei, the head of League One, and Amirhossein Farahani, the head of the league. Two, Seyyed Mohsen Mousavi, the official of League Three, Mojtaba Khodaparast, the official of the security of the League organization, Sajjad Aqiqi, from the officials of I. The organization of the league was held.
Based on this team draw, the matches will be held as follows:
Martyr Orki Islamshahr – Ario Islamshahr
Fajr Martyrs of Shiraz – support of Nazaja Khorasan Razavi
Iman Sabz Shiraz – Abuzar Kangan
Saveh Golden Cluster – Astara Municipality
Esteghlal Mulathani – Panic Talash
Mes Shahrbabak – Khyber Khorramabad
Arman Gharsirjan – Damash Parse Tehran
Harang Jawan Bastak – Hamedan Municipality
Chuka Talash – Kermanshah mission
Chadormelo Ardakan – Mahshahr Persian Gulf
Van Pars Isfahan – Stars of Kermanshah
Esteghlal Khuzestan – Damashian Gilan
South Pars Jam – Shams Azar Qazvin
Caspian Sea (Raika) Babol- Babolsar Municipality
Saipa Tehran – Hamadan pass
The names of the host teams are listed first.
Nod Urmia faced the rest draw and went directly to the 16th round of the elimination cup, which according to the regulations will be the guest in the next round.
In this regard, Amirhossein Roshanak said: The third stage of the tournament will be held on December 20 and 21, and any team that withdraws from the tournament at this stage will face a heavy fine and a one-season ban from participating in the knockout cup.