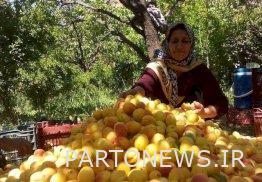 According to Aria Heritage, quoting the public relations of the General Directorate of Heritage, Culture, Tourism and Handicrafts of Zanjan, Abedin Safaei Nasab said on Saturday, July 25, 1401: "Mahneshan city was held."
"The importance of soil and water, the development of modern agriculture and the development of tourism with the participation of all can play a role in the development of the Mahneshan region," added the head of the Mahneshan Cultural Heritage, Tourism and Handicrafts Department.
"The festival was held with the presentation of agricultural and handicraft products and products with apricot wood, kilim and jajim, local bread baking and the presence of tourists in the coastal park of Mahneshan city," Safaei Nasab said. "Also performing local music, family walks and awarding prizes were other programs of the festival."
"The festival was held in cooperation with the General Directorate of Cultural Heritage, Tourism and Handicrafts, Islamic Culture and Guidance, the General Directorate of Agricultural Jihad, Municipality, Sports and Youth, the Governor's Office and the city council in Mahneshan," he said.
The head of the Department of Heritage, Culture, Tourism and Handicrafts of Mahneshan city added: "Mahneshan city has a lot of potential in the field of tourism and agriculture that should be introduced with various cultural and artistic programs."