Balls and nets
Sport
The fourth week of the Premier League Esteghlal in the land of Saadi and Hafez and the Isfahan derby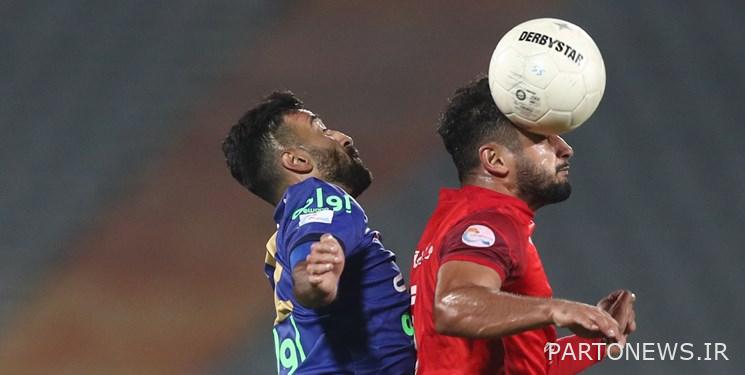 According to the sports reporter of Fars News Agency, the matches of the fourth week of the Premier League will start tomorrow with 4 matches. After this week's competition, the national team will prepare for the away game against Lebanon and Syria. On Friday, we will see the course of Esteghlal and Sepahan again with 9 points to lead.
Let's take a look at 4 matches tomorrow;
Fans – Padideh Mashhad; Withdrawal of students from the crisis?
The fan of one of the new teams in the Premier League has been in an unfavorable situation with three consecutive losses. Reza Enayati, who brought this team to the Premier League, has not yet been able to score a point in the Premier League, while most experts have considered the way the fan team plays acceptable. Even after defeating this team, Sepahani admitted that the fans surprised them. However, if the fan just plays nicely and does not get points, he may fall out of the main options.
This week's opponent is a fan of a team from Enayati's hometown. Padideh Mashhad also has unfavorable and critical conditions and has gained only one point from the first three games of the league. While he was not even present in a game! In this way, perhaps Enayati has reached a team at the best possible time, whose name is even disputed, and some call it a phenomenon and others call it Shahrkhodro. Akbar Misaghian, who replaced Reza Mohajeri in the third week, will do his best to get the team out of the crisis, but he has a difficult task ahead of him.
Tractor – Arrow; The second home win of the Tabriz Reds?
Traktor Tabriz has won only one win in three weeks with Firooz Karimi, and if Traktor wants to return to the top, it must definitely change its conclusion process. Firooz Karimi criticized the performance of two or three players of his team after the defeat against Esteghlal, but it is said that no player has been left out of this team. The fans are waiting for Traktor to win at home again, but they have a tough opponent ahead.
Peykan has currently played two games in the Premier League and has 4 points. The Tehran team, which was postponed for the third week due to the presence of its players in the Omid team, may not be able to use them in the fourth week, and returned to Peykan camp under these two cold players.
Zobahan – Sepahan; Isfahan Derby
The Isfahan derby can be one of the most interesting games this week, especially since Zobahan has changed compared to last season and has become a strong team that does not intend to fight only for survival. Sepahan, however, has saddled its horse for the championship this season. A team that, according to some experts, is one of the most complete teams in the Premier League this season, which is not weak in any position.
Sepahan currently has 9 points and is at the top thanks to a better goal difference than Esteghlal. It should be seen that Zobahan with its Persepolis head coach can pull the brakes on Sepahan and cut the consecutive winning streak of the yellow-clad team, or Zobahan will give Sepahan three points like Esteghlal.
Fajr Shahid Sepasi – Esteghlal; Souvenir of three points from Diar Saadi and Hafez?
This game is reminiscent of the good matches between the two teams in the Premier League in the recent past. Fajr Shahid Sepasi has always been considered a respectable and constructive team in our country's football and now this team has returned to the Premier League to relive the good memories of the past for football fans in Shiraz and Fars province. Fajr Shahid Sepasi after two consecutive defeats managed to defeat the Abadan oil industry to get out of the crisis.
Esteghlal, with 9 points in the first three weeks of the league, has shown itself as a real contender for the championship. A team that has not scored a goal and has a poisonous offensive line. This week, the new French striker Esteghlal was allowed to play, and it must be seen that the blue-shirted players from Saadi and Hafez will return home with their hands full, or the Fajr youth can stop the strong Esteghlal.
Iman Sadeghi, the former goalkeeper of Persepolis in Fajr, will have a difficult task in this game, but if he shines in his team like in the previous game, maybe the Fajrs will succeed in this game.
The names of the referees of the fourth week of the Premier League:
Fourth week / Friday, November 5, 1400
Tehran fan – Padideh Mashhad
Hossein Ziari – Najafi Hero – Hamid Reza Afshon – Vahid Zamani
Supervisor: Alireza Yazdani
Tabriz Tractor – Peykan Tehran
Seyed Ali Asghar Momeni – Seyed Yaghoub Hojjati – Hiva Bahmani – Amir Saman Soltani
Supervisor: Mohammad Reza Fallah
Fajr Sepasi Shiraz – Esteghlal Tehran
Morteza Mansoorian – Arman Asadi – Yaghoub Sokhandan – Seyed Mehdi Marjanzadeh
Supervisor: Yadala Jahanbazi
Isfahan Steel – Isfahan Sepahan
Payam Heydari – Mohammad Reza Abolfazli – Farhad Moroji – Masoud Haghighi
Supervisor: Aboutaleb Taherian
Saturday, November 6, 1400
Rafsanjan Copper – Arak Aluminum
Mohammad Hossein Torabian – Alireza Taherkhani – Amin Zahedi – Shabir Behrozi
Supervisor: Fereydoun Isfahanian
Mazandaran Textile – Abadan Oil Industry
Hassan Akrami – Milad Ghasemi – Mojtaba Gharib – Ali Bai
Supervisor: Rasoul Foroughi
Persepolis – Gol Gohar Sirjan
Bijan Heydari – Ali Mirzabeigi – Alireza Ilderm – Nasser Jangi
Supervisor: Reza Sokhandan
Masjed Soleiman Oil – Khuzestan Steel
Ali Safaei – Ali Ahmadi – Mohsen Babaei – Iman Kahish
Supervisor: Mohsen Ghahremani
End of message /
Suggest this for the front page
.