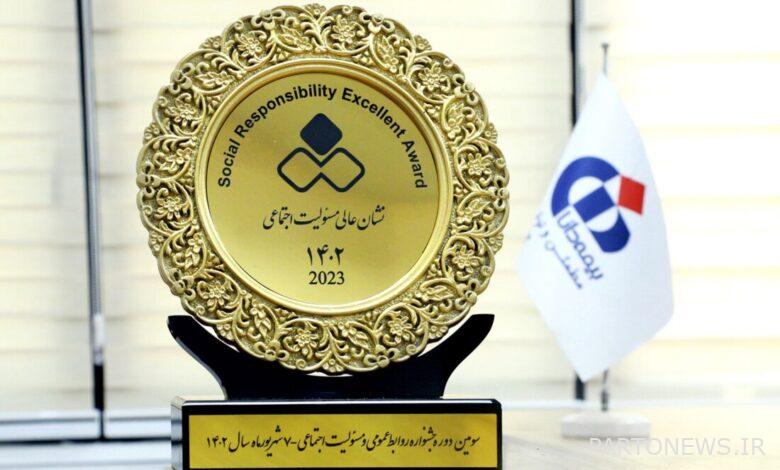 According to the financial news report, citing the public relations of Bimah Dana, in the closing ceremony of this period of the festival, which was held on Tuesday evening, the 7th of September this month, with the presence of the public relations of leading organizations and companies in the field of social responsibility, it was shown that The Ambassador of Social Responsibility Award was given to Reza Jafari, Vice Chairman of the Board of Directors and CEO of Dana Insurance for his worthy efforts and services in promoting the role of social responsibilities and taking advantage of all organizational facilities and capacities to promote and spread this important mission.
Also, in this ceremony, the highest badge of social responsibility and the certificate of recognition of the International Public Relations Association were also given in order to appreciate the good performance of public relations of Dana Insurance and pay attention to moral values, help the society in the direction of the responsibility of maintaining and maintaining living standards and special and double attention to the beneficiaries. Social affairs and charitable activities were donated in the field of social responsibility.
It is worth mentioning that in this festival, which was held with the aim of "helping to develop a culture of organizational excellence and a model of excellence and excellence through public relations", audit, evaluation and recognition of organizations active in the field of social responsibility at three levels of "growing", "Developed" and "Progressive" took place.
In the third edition of the public relations and social responsibility festival, which was held with the presence of 100 leading companies in the field of communication-oriented social responsibility (CCSR), Ali Darabi, the deputy minister of cultural heritage, tourism and handicrafts, Sakine Sadat, the assistant to the president in the pursuit of social rights and freedoms, Houshmand Sefidi, the secretary of the festival, and Behzad Hossein Abbasi, the lecturer of the university, while pointing to the movement of public relations in the field of social responsibility, gave a speech about the most important social and communication elements and approaches in the field of public relations, as well as the role-playing and application of artificial intelligence in this field.