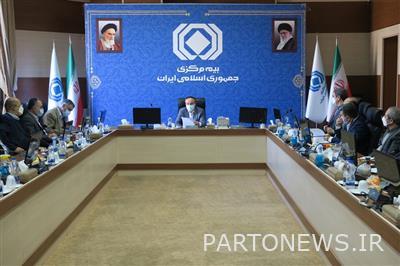 Gholamreza Soleimani among the CEOs and senior officials of the insurance industry:
According to the Monetary News, quoting the General Department of Public Relations and International Affairs of the Central Insurance, Dr. Gholamreza Soleimani, who addressed the senior managers of the insurance industry, added: The insurance industry with the participation of all activists, managers and experts This area has been able to present itself as the main claimant of economic stability, which is of particular importance in reducing inflation and increasing the coefficient of social security.
Explaining the latest achievements of the insurance industry in the recent year, the Director General of Central Insurance pointed to the effective role of smart investment in the insurance industry and said: The insurance industry is considered to strengthen the financial structures of the country.
Soleimani announced the entry of the insurance industry into the golden age in the near future and specified: with the continuation of the process of attracting people's micro assets, especially in the field of life insurance and investment in large markets, we can be more hopeful about the future of this industry. .
In another part of his speech, the Chairman of the Supreme Insurance Council stressed the need for peaceful and professional coexistence of sales network and start-ups and said: Direct and supervise in balancing the activities of the sales network.
He called on insurance startups not only to work in the field of third parties, but also to plan to offer insurance policies in various fields of insurance.
Soleimani described the popularization of life insurance in the country as a serious mission and said: "The resources obtained from receiving life insurance premiums are very important for the purpose of popularizing the economy, which should be pursued within the macro policy of the resistance economy."
In the end, the head of Central Insurance stressed the importance of protecting the rights of insurers, protecting people's insurance information, planning the insurance industry to reduce inflation and financial pressure on citizens, as well as avoiding rate breaks in the insurance industry.
It is worth mentioning that in this meeting, the head of the Insurance Research Institute, the secretary general of the Iranian Insurers Syndicate and several CEOs of insurance companies explained the report of the "National Conference on Insurance and Development Day" and expressed their views.