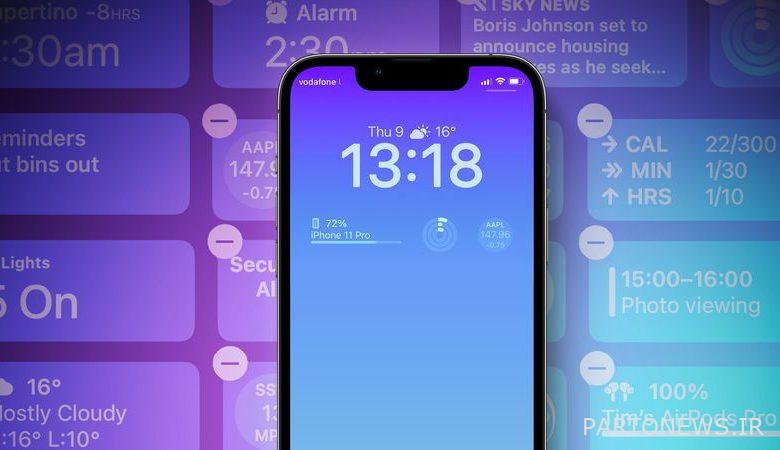 According to Bloomberg correspondent Mark Gorman IPhone 14 Pro And IPhone 14 Pro Max They'll probably come with an always-on display that displays some widgets, such as weather, fitness, and other information, in iOS 16 lock screen or lock screen mode.
There have been other news about the release of models before IPhone 14 Pro It was released with an always-on display that allows users to view some of the information they need without having to tap the screen to activate it. Now a Bloomberg reporter on Your latest report Says in lock screen mode in the version iOS 16 Users can view some widgets.
With this account iPhone 14 Pro like Apple WatchWidgets such as weather, calendar, stock status, some activities and data are always on the screen with Update rate Shows below. Also, like the Apple Watch, it prevents some sensitive data from being displayed on the lock screen.
The always-on display of the iPhone 14 Pro and its features
The always-on display appears to be able to display dates, hours, and unread notifications as well. It's likely Apple's like that approach for Apple Watch Series 5 In addition, it allows users to enable or disable the always-on display on various iPhone 14 Pro models through the app settings.
Mark Gorman also points out in his report that in the always-on display mode, the iPhone 14 Pro is likely to minimize battery consumption by taking an approach such as lower brightness and lower frame rate. Apple in models IPhone 13 Pro Reduces the display refresh rate to 10 Hz when no special work is being done with the phone. According to Ross Young, a display analyst, the screen refresh rate of iPhone 14 Pro models is expected to be similar. Apple Watch To decrease by one hertz.
It seems that only the iPhone 14 Pro and iPhone 14 Pro Max models will be available with an always-on display.