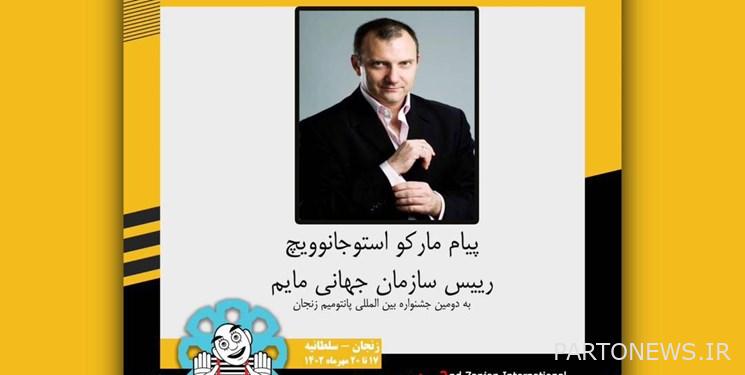 According to Fars news agency, Marko Stojanovic, head of the World Mime Institute, released a message when he arrived in Iran to participate in the second Zanjan International Pantomime Festival.
The text of this message is as follows:
Dear Friends,
The professional principles of the World Pantomime Organization is to respect all the efforts that are made in order to practice, teach, promote, flourish and enrich the art of pantomime, and in a more professional way, it is to respect the people and institutions that invest in this effort.
We believe that pantomime is the first art and is also an important part of many other performing arts that may be confusing and surprising even for professionals.
We inherited non-verbal communication from our ancient ancestors, and since humans are story-telling creatures, the first story-tellers must have been mimes.
Since pantomime is a universal language for everyone, it is undoubtedly the language of peace, and this phrase is the slogan of the World Pantomime Organization.
Here I would like to thank the founders and participants of the second Zanjan International Pantomime Festival and the artists present at this event. I am also grateful to all the organizations and people who supported this festival.
In the end, I invite all the fans and audience to come to the festival and enjoy the pantomime, because the audience is the reason we are all in Zanjan.
Thanks
On the first day of the Zanjan pantomime festival (Monday, October 17), Marko Stojanovic will attend a specialized and news meeting, and on Tuesday evening, October 18, he will hold a specialized workshop.
The second Zanjan international pantomime festival will be held in Zanjan from 17 to 20 October 1402 with the participation of the General Department of Performing Arts, the General Department of Culture and Islamic Guidance of Zanjan Province, the Iranian Performing Arts Association, the Zanjan Pantomime House and provincial bodies under the secretaryship of Sasan Qajar.
end of message/
You can edit this article

Suggest this article for the first page