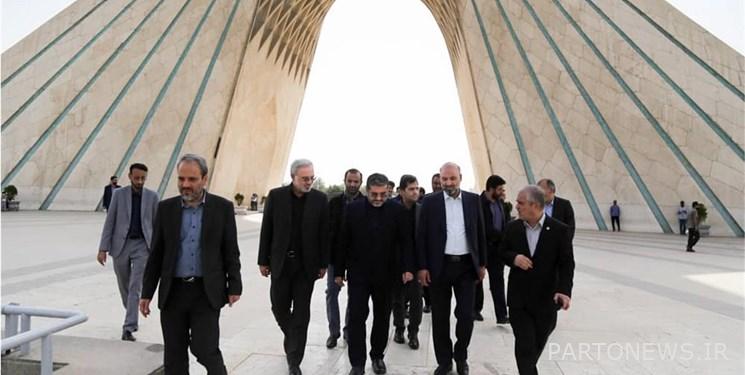 According to Fars news agency, Mohammad Mehdi Esmaili, on the sidelines of this visit, pointed out the importance of modernizing the Iranology Museum of the Azadi Tower cultural complex and said: by benefiting from the huge capacity of cultural centers such as the Azadi Tower complex, it is possible to reflect scientific, technological, civilizational and artistic developments. The Islamic revolution took action in the form of modernizing museums and cultural centers.
He further emphasized on facilitating the conditions for setting up art exhibitions in accordance with the slogan of cultural justice of the popular government and said: Designing the dialogue hall of the Azadi Tower cultural complex is of particular importance for the development of cultural diplomacy and communication between the country's cultural managers and artists from different fields. Appropriate measures should be taken in this regard.
Esmaili continued: Increasing the number of visiting groups from different sections of the society to various parts of the Azadi Tower cultural complex and providing special facilities for art students to visit and benefit from the facilities of this complex should be on the agenda.
On the sidelines of his visit to the Azadi Tower cultural complex, the Minister of Culture also met with a group of art veterans, and in this intimate and brief meeting, he pointed out that some of the problems raised by the artists were solved with the President's follow-up, and added: "With the President's personal follow-up, some of the problems of the people are solved." Art, which was raised during the meeting of artists with him in the holy month of Ramadan, has been resolved and the Ministry of Culture in the people's government will do its best to solve other issues and problems of the people of culture and art based on the concerns of Ayatollah Raisi.
It should be noted that the cultural and artistic complex of Tehran's Azadi Museum Tower is one of the cultural complexes of the Rudaki Foundation affiliated to the Ministry of Culture and Islamic Guidance, which includes the largest photography museum in Iran and the region, Hall of Mirrors, Library and Culture Hall, Hall of Nations, Hall of Heaven, Hall of Knowledge, Hall of Mirrors. Iranology is a library, a meteorite museum, a meeting hall, a music concert hall, a theater and music practice hall, etc.
end of message/
You can edit this article

Suggest this article for the first page