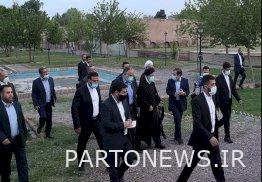 According to the Aria Heritage Report, citing the public relations of the General Directorate of Cultural Heritage, Tourism and Handicrafts of Qazvin Province, Ayatollah Seyyed Ibrahim Ra'isi visited this historical complex on the evening of Wednesday, May 27, 1401 and added: "This place happened and if there is no more suitable user than the current user (sports and education), they will be questioned."
"In the comprehensive plan, the restoration and liberation of the lands of this complex and research and archeological studies should be considered," the president said.
He continued: "This plan should follow the life and regeneration of this collection and should not be seen in the attenuation and liberation of cultural heritage."
The Safavid dynasty covers an area of ​​about 8 hectares in the historical heart of Qazvin and is one of the symbols of the historical glory of this ancient land and a relic of more than half a century of the capital of this city. This historical complex is a relic of more than half a century of the capital of Qazvin in the Safavid era. At present, there is a school and two sports halls in a part of the historical complex of the Safavid government, which should be evacuated and liberated in the government reorganization plan.
The reorganization of the Safavid state was one of the approvals of the Supreme Leader's visit to this province in 1982 and one of the important demands of Qazvin cultural heritage lovers, which has not been fully finalized and fulfilled due to the non-liberation of lands by several institutions.
The President and the accompanying delegation traveled to Qazvin this Wednesday afternoon in the form of provincial trips of the 13th government.