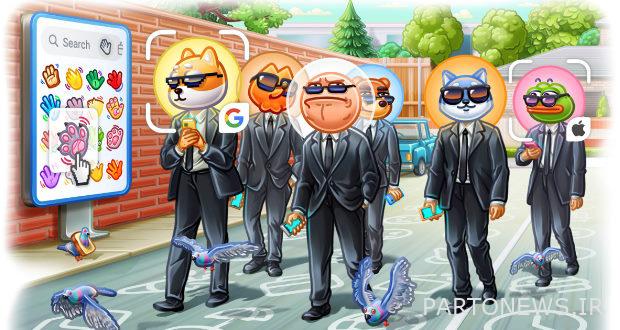 0 Posted by: Moin Karimi February 15, 1401 at 12:28
The new Telegram update was released with dozens of interesting and diverse features. Putting stickers and emojis in the profile, simultaneous translator, etc. are among these.
Telegram messenger released a new update that has many features. This popular messenger has started the new year with a storm and has made work and entertainment more enjoyable for its users with 10 new important features. If you are among the users of this application, you will have a wide range of new emojis and stickers and more options to share with your friends, family and colleagues.
Telegram's new update with dozens of attractive features
Continue to introduce and review new features that Telegram We will add to the new version of the application itself.
1. Making a profile picture with stickers and emojis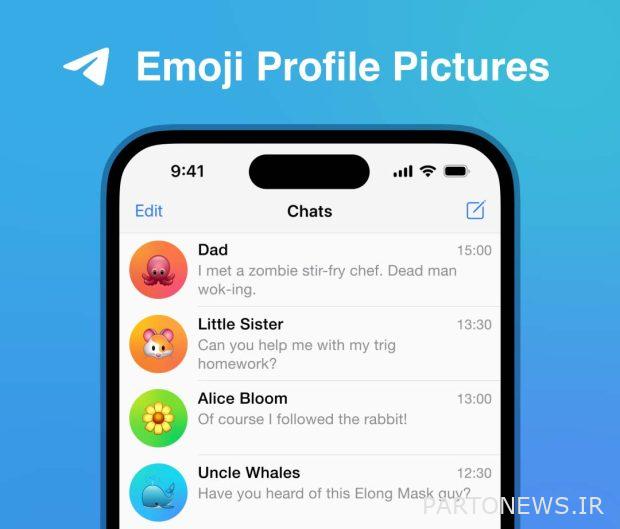 One of the new features of Telegram is the possibility of creating a profile picture from stickers and moving emojis. You can choose this profile picture for your personal account, group or channel. This feature will be available for both free and premium version of Telegram.
2. Organize emojis by categorizing them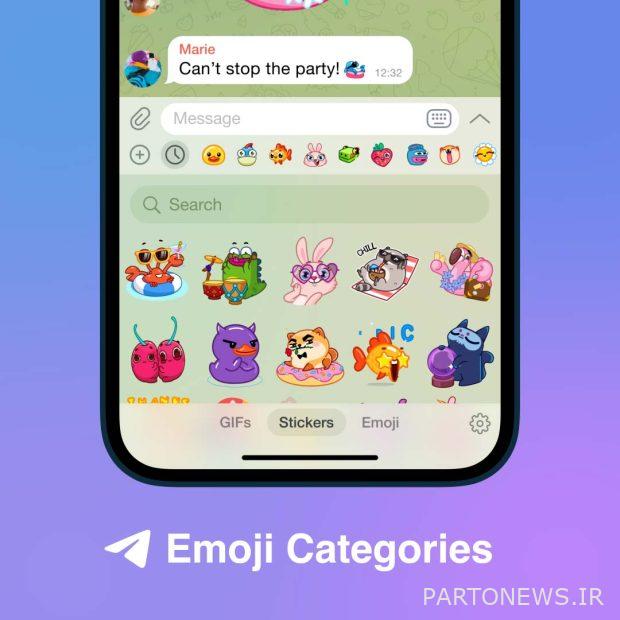 Emojis or stickers are divided into different categories. For example, if you choose a heart emoji or sticker, thousands of similar emojis and stickers will be available to you. Currently, Telegram is equipped with more than 1 million different emojis and stickers that users can use in their conversations.
3. Instant translation of chats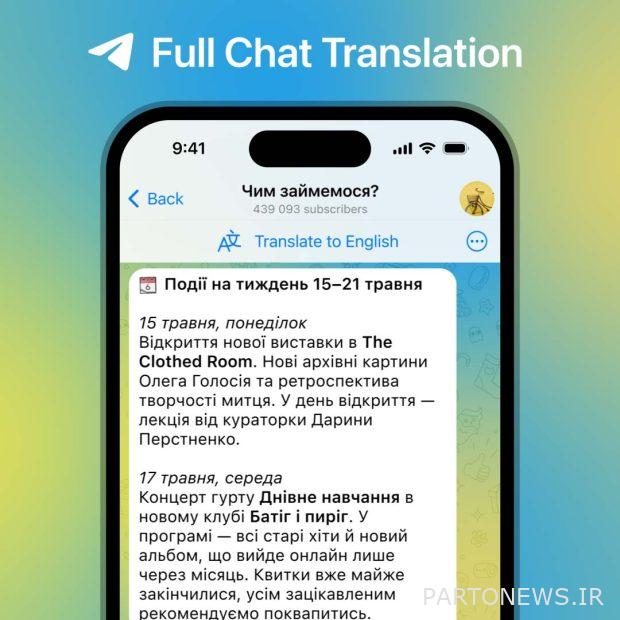 One of the features available to premium Telegram users is the ability to translate all chats in real time. This tool supports different languages ​​that can be adjusted from the top of a dialog page.
4. Manage network usage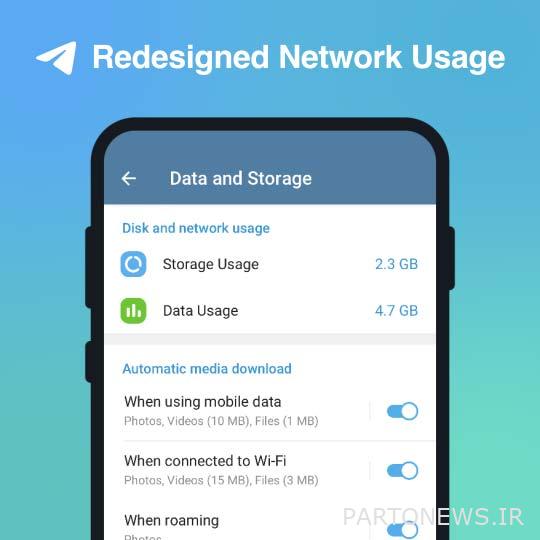 Telegram has updated the data and memory management section and shows the amount of your data consumption on the mobile internet or Wi-Fi using circular charts. In this way, you can also set the automatic download feature.
5. Changes in the automatic download of files
Files sent to you in groups, channels, or private chat pages can be automatically saved to your phone's image gallery based on the type, size, or chat page you want. Here, the "Exception" option has also been added to the settings menu, which allows you to have more control over the automatic download of files.
6. Separate licensing for groups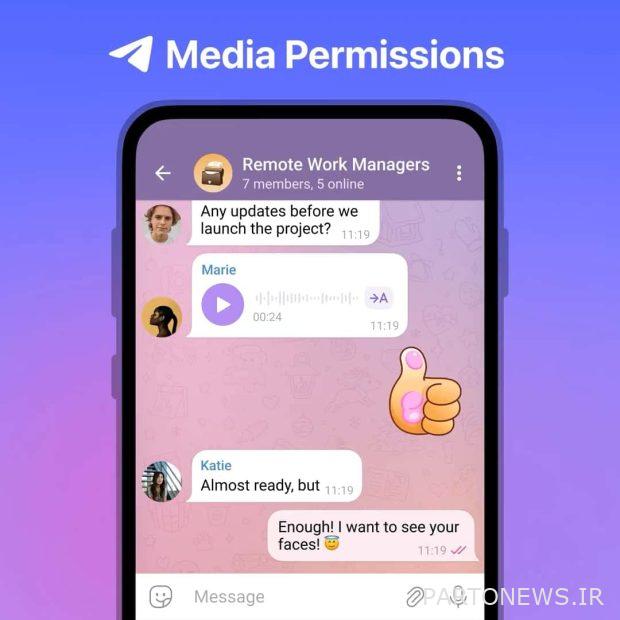 When creating a Telegram group, you can set different permissions. For example, set the possibility of users to send photos, videos, files, emojis, gif files, etc. based on the rules you want. Thanks to this feature, you can create a voice messenger from Telegram so that the users of your group can communicate with each other only through voice chat, just like voice messenger applications.
7. Customize bots with chat selection
Business owners who use bots will be able to set up buttons for their Telegram bot in the new Telegram update, which will provide preset options for selecting users, groups, or channels. For example, using these buttons, you can immediately call the bot in the group you are the manager of.
8. Re-login through Apple ID and Google ID
The process of re-entering Telegram is now easier than before. You can enter your Telegram account without entering your phone number and through your Apple ID and Google ID. Of course, if you have activated the two-step authentication option, you must also enter its password.
9. Telegram premium annual subscription
To encourage users to use the Premium version of its application, Telegram has offered its annual subscription with attractive discounts. These discounts are included in the new Telegram update.
10. New and attractive emojis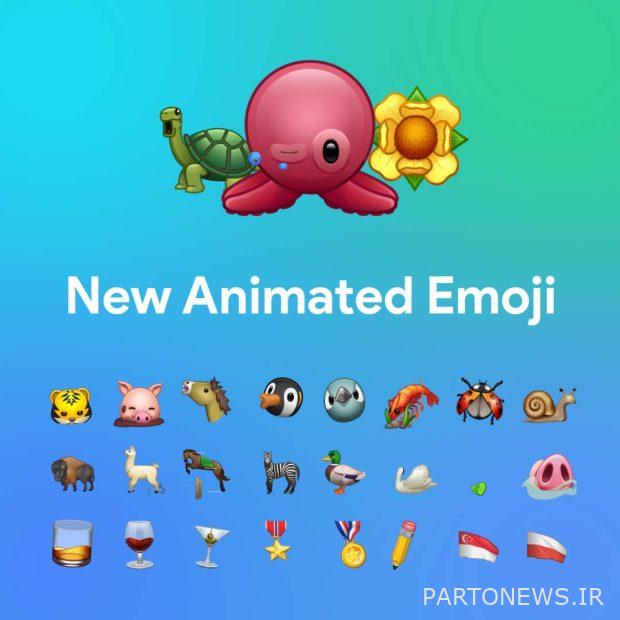 As we mentioned above, Telegram new update It has made it possible to put emoji and fixed and moving stickers as a profile picture. In addition, the designers of Telegram themselves have designed hundreds of new icons and made them available to users, which are specially designed for profile pictures.
Additionally, new interactive emojis for emojis





They are designed so that you can use them in your chat pages.