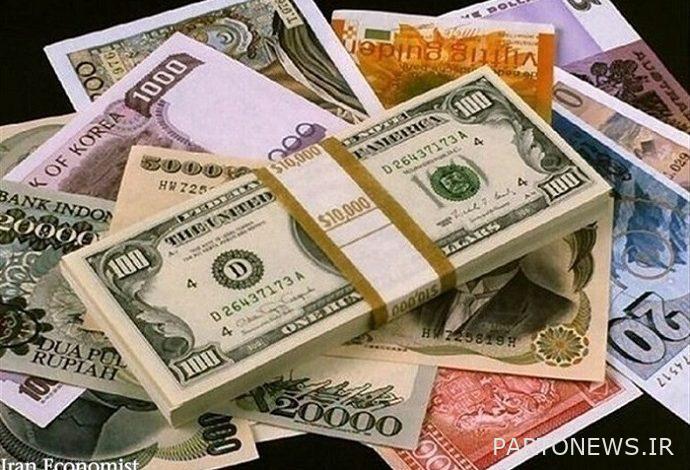 Today, each US dollar was valued at 42,000 rials, the British pound at 56,297 rials and the euro at 47,509 rials. According to this report, today each Swiss franc 45,706 riyals, Swedish krona 4,743 riyals, Norwegian kroner 4,743 riyals, Danish krone 6,389 riyals, Indian rupee 560 riyals, UAE dirham 11,437 The Kuwaiti Dinar was valued at 138,774 Rials, the Pakistani Rupee at 23,774 Rials, the Japanese Yen at 36,727 Rials, the Hong Kong Dollar at 5,386 Rials and the Omani Rial at 109,232 Rials.
Also, each Canadian dollar 32 thousand 776 Rials, New Zealand dollar 28 thousand 617 Rials, South African Round 2 thousand 708 Rials, Turkish Lira 3 thousand 622 Rials, Russian Ruble 571 Rials, Qatari Rial 11 thousand 539 Rials, one hundred Iraqi Dinars. 2,879 riyals, Syrian lira 17 riyals, Australian dollar 30,338 riyals, Saudi riyals 11,200 riyals, Bahraini dinar 111,702 riyals, Singapore dollar 30,936 riyals, one hundred Bangladeshi taka 48,946 Rials, ten Sri Lankan rupees were set at 25,075 riyals, Kiyat Myanmar 24 riyals, one hundred Nepalese rupees 34,966 riyals, one hundred Armenian drams 8,788 riyals and the Libyan dinar 9,112 riyals.
Today, 6,596 riyals per Chinese yuan, one hundred Thai baht 124,763 riyals, one Malaysian ringgit 10,011, one thousand South Korean won 35,400 riyals, one Jordanian dinar 59,239 riyals, one hundred Kazakhstan tenge. 1,692 Rials, 13,682 Rials per Georgian Lari, 1,000,955 Rials per Indonesian Rupi, 408 Rials per Afghani Afghani, 16,676 Rials per new Belarusian ruble, 24,720 Rials per Azerbaijani manat, one hundred Philippine pesos and one thousand Rs. Tajikistani somoni 3,721 riyals and Turkmenistan new manat 12,023 riyals.