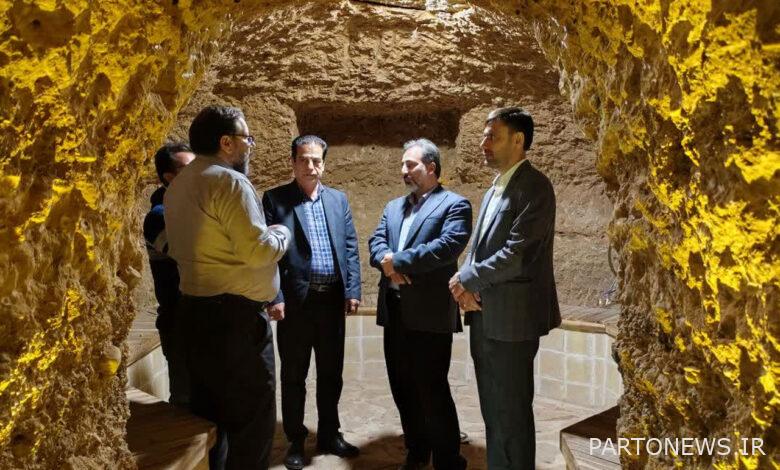 According to the report of Arya Heritage, quoted from the public relations of the General Directorate of Cultural Heritage, Tourism and Handicrafts of Isfahan Province, Reza Sameh, Director General of the National and World Heritage Sites of the Ministry of Cultural Heritage, Tourism and Handicrafts, on Tuesday, November 1, in the presence of the governor, the mayor, members of the Mimeh Islamic Council, the head of the cultural heritage department of the city. And the director of Mazzabad Maimeh and Wazwan World Aqueducts visited Payab and Mazhar of Mazhabad Maimeh World Aqueduct.
Director General of National and World Heritage Sites said during this visit: "Mazdabad Mimeh World Aqueduct is really unique and fortunately the city officials are also aware of the special importance of this issue and they are doing worthy and appreciable activities in the field of revitalization and creating suitable tourism infrastructures in order to provide conditions for the presence of tourists." They have provided in this area, so that tourists can easily enter to the depth of 20 meters and visit this beautiful and historical aqueduct.
He continued: So far, 11 aqueducts in Iran have been registered as UNESCO World Heritage, one of the most beautiful of which is the aqueducts of Mazdabad Mimeh and Vazvan in Mimeh district, therefore, according to the goals of the national and international bases of the Ministry of Cultural Heritage, Tourism and Handicrafts, in the stage First, the monitoring of historical monuments includes the monitoring of changes based on the management model of protection bases, the lack of physical changes in cultural heritage due to human interventions, and in the second stage of research, which includes the transfer of intangible experiences and knowledge of the past, such as the way aqueducts work in supplying water to people and agricultural lands to the people of today and the world. Modern is on the agenda of national and global contract bases.
Sameh added: Fortunately, due to the existing infrastructure and the proximity of this area to the transit road from the north to the center and the south of the country, Shahinshahr and Mimeh have a very good capacity for economic development from the point of view of tourism.
Reza Sameh, Director General of National and Global Bases of the Ministry of Cultural Heritage, Tourism and Handicrafts, during his visit to Shahinshahr and Mime, visited the Mirza Taghi eco-residence in Morchekhort, the historical castle of Morchekhort, the Sheikh Ali Khan Zanganeh International Caravanserai and pointed out the beautiful and pristine structure of this regions as well as its globalization, emphasized the necessity of minimal interventions by investors in order to carry out restoration operations.
end of message/