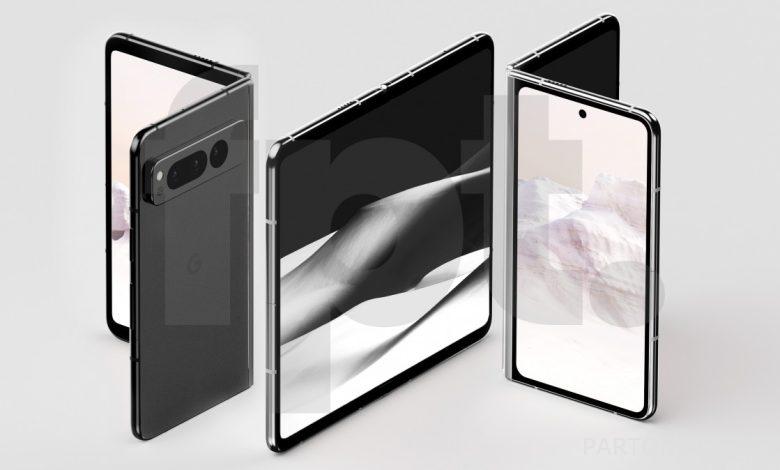 For a long time, we have seen reports about Evelyn Google folding phoneWe are Pixel Fold and now the high-quality renderings of this device have reached the Internet and its price has also been revealed.
Pixel Fold is apparently one of Google's most secretive projects, which we expect next year along with Pixel tablet be introduced We will probably see the unveiling of this device at the annual Google I/O conference.
Renderings and price of Google Pixel Fold
According to the renders, the design of the Pixel Fold is similar to the Pixel 7 series, and for example, the main camera module has a horizontal design. However, as you can guess, we are dealing with a foldable phone.
The design of this Google phone according to the renders is similar to the Samsung Galaxy Z Fold series, that is, we will be dealing with an external display and a large internal display. Although the specifications of this device have not yet been announced in official and unofficial sources, but apparently its performance will be similar to other Pixel phones and we will also face high-quality cameras.
Along with the renderings, the price of the Google foldable phone has also been revealed: $1,799. This price is different from the price Galaxy Z Fold 4 Not available at initial launch. Therefore, the Pixel Fold has to compete with a similarly priced device in the market that has been around for several years since its first generation.
This smartphone will apparently be equipped with two 9.5 megapixel selfie cameras. The external selfie camera is placed inside a hole, while the internal display selfie camera is placed inside the bezel around the panel.
Among other features that can be seen in these renderings, we can mention two speakers, one in the upper part and the other in the lower part, as well as the fingerprint sensor inside the power button. Finally, we expect the tensor chip to provide the power of this device.