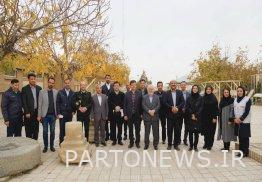 According to the Aria Heritage report, citing the public relations of the General Directorate of Cultural Heritage, Tourism and Handicrafts of Hamedan Province, Ali Darabi visited the Western Regional Museum and Hegmataneh Historical Site and Museum on Wednesday, November 25, 1401, on the second day of his stay in Hamedan.
On the sidelines of this visit, he said: Appropriate measures have been taken in this complex, which have been tried to be based on international standards.
He also emphasized that a suitable budget and credit has been provided for the regional museum in the west of the country and added: We should be proud of our ancestors who were civilized and cultured people. They once made history and preserved it.
Darabi stated that today we have a duty to protect the heritage of our ancestors and continued: A good future awaits the cultural heritage of the country.
The deputy of the country's cultural heritage, even though the global slogan in the field of museology today is the question of the power of museums, said: museums play an important role in diplomacy, peace and dialogue between societies, and it is true that it is said that museums are the showcase and treasure of every country.
Stating that some countries, which unlike Iran, do not benefit from a proud history and civilization, Darabi added: Such measures are because they have no past to present, but Iran has a history that is more than 7 thousand years old. It is old.
It should be noted that the world registration file "Cultural and historical landscape from Hegmatane to Hamadan" includes Hegmatane hill, bazaar and historical context, which has been prepared for the world registration.
The historical landscape of Hegmatane in Hamedan city includes the route of "Bu Ali Mausoleum".
According to the announcement of the Ministry of Cultural Heritage, Tourism and Handicrafts, the world registration file of Hegmataneh will be sent to UNESCO in December of this year.
As the capital of Iran's history and civilization, Hamedan province has more than 1,800 historical and tourism monuments, more than 1,000 of which have been nationally registered.