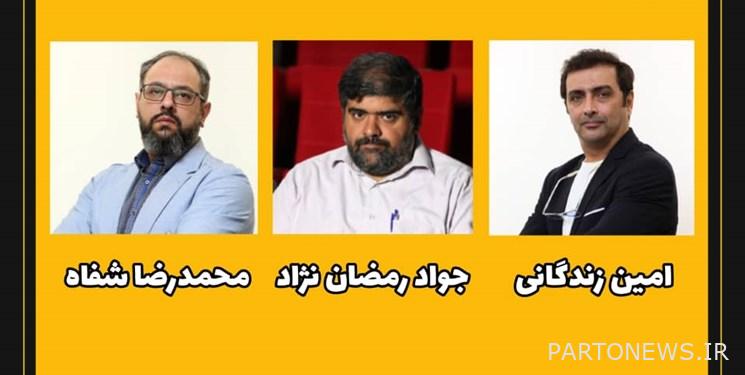 According to Fars News Agency, quoting the press office of the 8th Shahr International Film Festival, Javad Ramezannejad, Amin Zandegani and Mohammad Reza Shafa are in charge of selecting works in the form of TV series and home screenings of this festival.
According to this report, Javad Ramezannejad, the director of the Sima Film Center, was born in 1977 in Tehran and holds a doctorate in social communication sciences. He is the manager of Channel Five, Ofogh Network and the director of Channel 4 Documentary Group. He has also been a member of the Planning and Programming Council of the Chahar Sima Network, a member of the Strategic Council of the Simafilm Center, a member of the Planning Council of the Documentary Programs of the Television, the director of the Shahid Avini Educational Complex of the Radio and Television Basij Center, and the editor of various radio and television news sections.
Amin Zandegani, born in 1351, is an actor, graduated in theater from the University of Arts, acting teacher and theater director. In 1374, he received the award for best male actor from the Fajr Theater Festival, and in 1380, he became the second actor selected by the people among the series broadcast (during 4 years) on the third channel of Sima. He starred in the movies "King Suleiman", "Fariba's Forgetfulness Season", "Me and Deborah" and "Devil's Throat" and appeared in the TV series "Safe House", "Habib", "Mokhtarnameh", "Lost Innocence". , "Until the morning", "Everything is there" and … plays in "Parvin" theaters, "L theater company", "Hot egg tango" and … in his repertoire.
Mohammad Reza Shafa was born in 1981 in Tehran. He has a master's degree in cinema from the University of Rennes in France and is a university lecturer. He has produced the films "Twenty-One Days Later", "It is a Crime to See This Film", "Expediency" and "Hanas". He also founded the Soura Film Club in 2014 and is the managing director of this film institute.
The 8th Shahr International Film Festival will be held in Tehran this summer under the auspices of Majid Akbarshahi.
End of message /
Suggest this for the front page