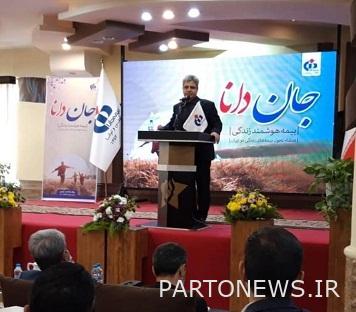 Ebrahim Kardgar, Vice Chairman and CEO of Dana Insurance, in the presence of representatives and sales network of Golestan, North Khorasan and Semnan provinces in Gorgan, to introduce the company's new projects in the industry. Described payment insurance and described Dana Dana as a unique product in the industry.
"Many studies and researches have been done in connection with the introduction of new insurance policies," Kardgar said. "Currently, the virgin market of existing insurance in the country is the life insurance market; In fact, "Jan Dana" insurance policy has been designed and licensed by a supervisor with the help of prominent professors such as Rabiee.
Referring to global and regional statistics and insurance penetration in them, the CEO of Dana Insurance expressed hope for John Dana Insurance as the best insurance model that includes the benefits of all three groups of insurers, companies and sales network: In the near future With the help of this insurance policy, the share of life insurance in the company's portfolio will reach 20%.
Explaining future policies and reducing the share of loss-making health insurance in the company's portfolio, Kardgar stated: The non-renewal of harm-loss treatment contracts in branches and regions of the country is an example of the policy.
The CEO of Dana Insurance made some remarks regarding the work history and experiences of Mehdi Rabiee as the designer and presenter of Jan Dana Insurance, and further said: "Jan Dana" Insurance is like a bird that will make the company fly and rise to the top of insurance companies. شد. In other words, by adding complementary plans to the life insurance policy, such as gold reserves and savings reserves, the wings of this bird will be strengthened.
In the end, Kardgar thanked the organizers of this training seminar and expressed hope for the success of the sales network of District 6 in offering and introducing "Jan Dana" insurance policy.
After Kardgar's speech, Mehdi Ahrari, Director of Education, Research and Development, spoke about the importance of training and learning all the details of the insurance policy to introduce it better and more to the company's customers, and asked everyone to pay special attention to the training courses to be provided. Be held, have and get enough interest.
At the end of the ceremony, Mehdi Rabiee, the designer of "Jan Dana" insurance policy, introduced the insurance policy in full and its sales methods to the insurers and answered various questions in this regard.
It is worth mentioning that the ceremony was attended by Musa Rezaei, member of the board and directors of the board of directors and managing director, education, research and development and individual life and savings insurance, head of district 6, heads of regional branches and officials of trade unions.