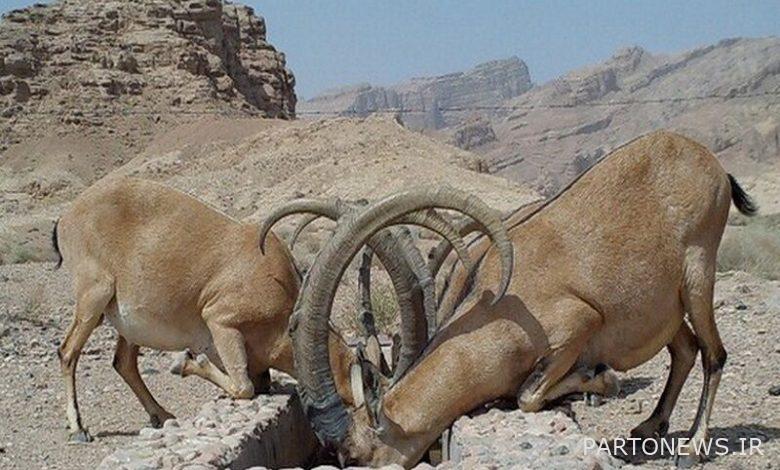 Factors such as poaching, fire damage, killing by gardeners, victimization by ordinary citizens due to fear, threatening the life of wildlife species in Kohgiluyeh and Boyer-Ahmad Provinces that the protection of this valuable natural heritage requires a new look .
In addition to these factors, other reasons such as the degradation of the quality of wildlife habitats due to nomadic grazing, agriculture and unsustainable development and wildlife smuggling threaten this valuable natural heritage that need all citizens and officials to work to change the current practice. .
As environmentalists point out, although a number of poachers hunt to show off their abilities and skills, many of these poachers kill the tongue-tied animals because of the need to earn a living. Both of these attitudes can be changed and corrected with awareness.
Although the General Directorate of Environmental Protection of the province is trying to protect life species by using deterrents such as fines for poachers, efforts to rebuild their water sources, equip rangers to better identify predators along with culture, but the lack of rangers, Their low salaries and benefits have prompted experts to call for more comprehensive measures to protect Kohgiluyeh and Boyer-Ahmad wildlife species.
Wildlife in Kohgiluyeh and Boyer-Ahmad
According to available statistics, there are 250 species of migratory and native birds, 50 species of mammals and 50 species of fish in the province, and according to environmental officials Kohgiluyeh and Boyer-Ahmad, a comprehensive study of the province's wildlife has not yet been conducted.
Experts believe that identifying wildlife species, researching endangered species is the first step in protecting wildlife from human and natural threats.
The faculty member of Yasuj University said: "Due to the importance of wildlife in the food chain and the preservation of more prominent species, we need to be diligent in preserving all small and large species of wildlife."
Aria Shafahipour, a PhD student in Environment, emphasizes: "Because different species of wildlife have intrinsic, environmental, genetic, social, economic, scientific, educational, cultural, recreational and aesthetic values, participation Citizens and the redoubled efforts of the authorities to protect these natural heritages from the bite of human and natural factors are necessary.
Wildlife threatening factors
Yasuj University faculty member says: "Forest fires are one of the important factors that lead to the extinction of a number of wildlife species in Kohgiluyeh and Boyer-Ahmad every year."
Shafahipour said: "When a fire breaks out, species such as insects and reptiles that have no legs and their speed is low, and a number of other animals are forced to migrate irreversibly."
The faculty member of Yasuj University pointed out that only one type of venomous snake has been identified in Boyer-Ahmad city and emphasized: The culture of killing all snakes due to fear in the society is a threat to this kind of wildlife. Identifying low-risk snakes and preventing them from being killed is a necessity that gets less attention.
He said: the establishment of nomads in areas of pastures near the Dena protected area in Dena city and grazing livestock will reduce the total food of goats as the province's leading species.
Shafahipour said: "Killing some valuable species of bears by gardeners and burying them without informing the environment due to entering the orchards is another sad story that needs to increase the number of rangers."
Preventive solutions
The faculty member of Yasuj University stated: Paying attention to the diverse values ​​of animal species in development planning, creating a sense of support for wildlife at different levels of society, attracting public participation in wildlife management and protection, conducting applied and fundamental research In order to identify and manage animal species is one of the ways to protect the province's wildlife species.
Shafahipour emphasized: Restoration of their habitats and populations and prevention of habitat destruction can provide favorable conditions for the dynamism and stability of animal species and their habitats.
Lack of environmental forces
Compensation for this shortcoming is a basic need because monitoring protected areas requires the use of environmental forces as standard as the world standard.
Kohgiluyeh and Boyer-Ahmad, the director general of the environment, said that according to international standards, there should be one janitor for every 1,000 hectares of protected area. "The number of environmentalists in the province is less than a quarter of the world standards," he said.
Eternal Eternal Wisdom added: "There are 13 natural areas, including national parks, protected areas and no-hunting areas in Kohgiluyeh and Boyer-Ahmad, of which seven are protected areas and five are no-hunting areas."
He said: This province with 320 thousand hectares of protected area has only 76 rangers who, despite the existing problems such as the scope of tasks, lack of equipment, mountainous province, forest fires and pastures under the management and dispersal of areas for protection and Conservation of protected areas and species of animals are vital.
According to Javadan Kherad, a large number of environmental guards active in the Kohgiluyeh and Boyer-Ahmad Protected Areas are contractors who need urgent action to increase their motivation in order to change their employment status.
Environmental solutions to compensate for the shortcomings
Director General of Environment Kohgiluyeh and Boyer-Ahmad said: "Interactive management instead of confrontational management and involving local communities in environmental protection is an effective way to better protect the protected areas of the province."
Eternal Islam of Wisdom added: "Efforts to increase the interaction between conservation forces and local communities create suitable conditions for wildlife and environmental protection of the region as one of the potential capacities of tourism and ecotourism."
He stressed that protected areas are the mainstay of economic development in many countries of the world: "If targeted planning, the potential benefits of these areas, such as the benefits of natural tourism activities can be used to improve the livelihoods of local communities."
Javadan Kherad pointed out that with environmental education, the sense of public ownership for the residents close to the protected areas can be increased in order to provide optimal protection of the environment to these areas. Benefited as a source of additional income and job creation.
He specified: the use of up-to-date knowledge and new technologies such as remote sensing satellites, sensors, etc., cooperation with knowledge-based companies, creation of special sanctuaries, specialization and environmental measures, interaction with Neighboring provinces are part of the government's plans to protect the Kohgiluyeh and Boyer-Ahmad Protected Areas.
Restoration of water fountains
Maintaining and ensuring the sustainability of water resources as the most basic and vital biological needs of wildlife in tropical climates is essential so as not to create problems for the diverse and valuable wildlife in these areas in the conditions of drought and scorching heat and long summer.
Director General of Environmental Protection of Kohgiluyeh and Boyer-Ahmad Provinces said: All wildlife fountains in the areas under the management of the environment of this province were repaired and rehabilitated in tropical and cold cities.
Eternal Islam of Wisdom added: "These wildlife drinking fountains in the protected areas of the tropical and cold cities of the province, which were damaged, were reconstructed, repaired and supplied with water."
He stressed: "Due to the prevailing weather conditions in the country and the severe drought this year, the construction, repair and reconstruction of wildlife wells, their increase and water supply in the habitats of this province are among the plans of this department."
Kohgiluyeh and Boyer-Ahmad, director general of environmental protection, said: "If we do not provide sustainable water resources for wildlife, they will be forced to migrate to provide water, which is a serious threat to their lives."
He considered the lack of water resources in the summer season as one of the problems of these areas where water wells have been built and said: with the onset of the summer season, most seasonal springs dry up. And plays wildlife sustainability at the regional level.
Javadan Kherad stated: by providing suitable vehicles (tractors) and other necessary equipment, water supply to wildlife wells in these areas will continue until the end of the summer season.
Increase equipment
Director General of Environmental Protection Kohgiluyeh and Boyer-Ahmad said: Last year, 34 motorcycles were allocated to protect the protected areas and hunting in the province and were given to environmentalists.
Eternal Islam of Wisdom added: Kohgiluyeh and Boyer-Ahmad with its mountainous and difficult-to-pass topography was one of the provinces that needed to be equipped with motorcycles.
He pointed out that this equipment can play an important role in increasing patrolling and controlling hard-to-reach areas and dealing with poachers. And dedicated controls.
Seven protected areas of Dena with an area of ​​93,660 hectares, Eastern Dena with an area of ​​28,202 hectares, Khayez Sorkh with an area of ​​33,235 hectares, Khamen with an area of ​​25,671 hectares, Dale with an area of ​​10,381 hectares, Sulk There are 2,2287 hectares and Sioux with 12,858 hectares in the province.
At the top of them is Dena National Park and Dena Protected Area, which with an area of ​​93,660 hectares has 155 species of birds, 24 species of mammals, 20 species of aquatic animals and 39 reptiles.
Dena Protected Area is one of the richest biological areas in terms of plant and animal diversity in Iran and the world. Receipt.