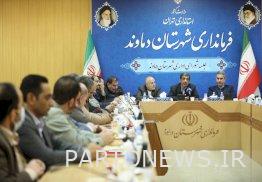 According to the report of Aria's Heritage reporter, engineer Seyed Ezzatullah Zarghami, today evening, Wednesday, January 14, 1401, in the meeting of the administrative council of Damavand city, which was held at the governor's place of this city, he said: serving in the Islamic Republic is a great success and requires closeness. Let us know that serving in this system is something that many great martyrs wished for before the revolution. In such a way that even the martyr Nawab Safavi had this wish. This was an ideal for the good people of that time. Therefore, we should aim to be close because this period of service passes quickly.
The Minister of Cultural Heritage, Tourism and Handicrafts continued: It doesn't matter who is where? And what service is he doing? God wants to be audited as much as they are responsible, and perhaps people who have higher responsibilities and more accountability to God should be held accountable. So everyone, wherever they are, should do their job well.
He added: Today, our people are not feeling well and they are a little unhappy. According to the interpretation of the Supreme Leader of the Islamic Revolution, people are standing by the system despite some of their dissatisfactions and complaints. I believe that the work of the people is in the hands of you members of the administrative council and you can do the work of the people.
The Minister of Cultural Heritage, Tourism and Handicrafts further pointed out the necessity of facilitating people's work and added: Fortunately, many works are being done very well through the single window. Everyone should help to remove the stones and obstacles in front of investors. This is a gathering where all city managers are present. We must join hands to create a single window and do the work of the people.
He continued: I had previously announced that if a person plans to invest a thousand billion tomans and does not want the facility, I am ready to have a meeting with him personally. Now, I have met with some of these people.
Engineer Zarghami then pointed to Damavand's tourism capacities and added: Damavand's tourism capacities are very high. We should not think that these tourists are passing through. Rather, these tourists are an opportunity to come to this city and the field of attracting them should be increased. You should take the initiative in Damavand so that if a traveler who plans to go north from this route stops in Damavand along the way and uses the tourism of this city.
Engineer Zarghami added: Calculate the system of problems. Now we have a good coordination with other agencies and ministries and we hope to provide better conditions for all three areas of cultural heritage, tourism and handicrafts.
applying for From engineer Zargami To solve Problem the traffic belt Gilavand
Seyyed Ahmad Rasoulinejad, the representative of the people of Firuzkoh and Damavand in the Islamic Council, also said in this meeting: The two cities of Firozkoh and Damavand are touristic cities. Tourists have been using this route to go to the north for years.
He added: One of the most important problems of these two cities is the issue of roads, traffic and the Gilavand ring road. This is our main problem. We request Engineer Zarghami, who is one of the most senior ministers of the government, to pay attention to this issue and follow up on this problem from the Ministry of Roads, because this issue is directly related to tourism.
Appreciating the presence of Engineer Zarghami in Firozkoh and Damavand, this MP added: Engineer Zarghami is one of the ministers with a long history in Ayatollah Raisi's government. Engineer Zarghami is one of the most efficient ministers of the government and has a very good management experience.
capacities of Damavand At every Three Area Cultural Heritage, Tourism And Handicrafts
Reza Taherkhani, the governor of Damavand city, in his speech and presented a report, said: The number of works identified in Damavand city is 190 works, of which 80 works are nationally registered.
He added: This is despite the fact that this city has several tourism model areas and we have 25 active fields of handicrafts and more than a thousand handicraft artists are working in Damavand.
Taherkhani added: Four hotels, 12 eco-tourism, a guest house, and 21 accommodation units are important tourism capacities of Damavand city.
end of message/