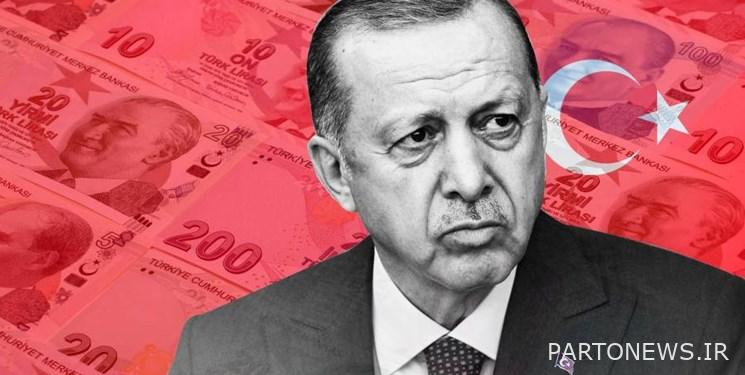 According to the Fars International Economic Group, quoted by Reuters, the Turkish lira in 2021 is the worst performance of the year since the inauguration of President Tayeb Erdogan Recorded two decades ago.
On Friday, however, he called on the Turkish people to trust his unconventional policies of lowering interest rates in the face of rising inflation.
Lear has the worst performance in emerging markets in 2021, losing 44% of its value against the dollar in the past year, with 19% losing in just one week.
Turkey's currency crisis has accelerated in recent months, affecting the country's $ 720 billion economy, largely due to a "new economic plan." ErdoganWith a focus on exports and credit deposits, despite the fall in the value of the lira and rising inflation has been more than 21 percent.
To reduce the crisis, Erdogan Two weeks ago, it unveiled a plan in which the government would protect the losses of local deposits converted against strong currencies, sparking a sharp 50 percent increase in the lira with the support of the central bank.
Erdogan On Friday, he called on the Turkish people to make all their savings in lira and also to bring their gold savings into the banking system as market fluctuations are largely under control.
In response to the words ErdoganThe lira fell to 13.63 against the dollar, but eventually aخرین He finished the day with 13.18 against every dollar.
Yesterday, the Turkish lira depreciated for the fifth day in a row in today's trading.
The currency crisis, which is the second crisis since 2018, has severely devastated the savings and incomes of the Turkish people.
The lira has risen against the dollar from 18.4 to 10.25 over the past two weeks, but has since rebounded to 13.18 lira, its worst performance since 2001.
Turkey's value crisis since September after the country's central bank pushed Erdogan It started lowering bank interest rates to 14%.
Economists and former central bank governors have called the Turkish inflation rate unlikely to rise to 30 percent in December due to the depreciation of the lira; Bank Goldman Sax Predicts Turkey's inflation rate to reach 40% by mid-2022.
The new deposit scheme is designed to reverse the dollar wave. Accordingly, the government covers the difference between the deposit rate and the foreign exchange rate and gold for the lira to become a new tool.
Many economists have warned that if the lira continues to depreciate, the plan could further increase inflation and increase the government's financial burden.
Some political analysts say Erdogan He is confident that the deposit protection scheme, along with a 50 per cent increase in the minimum wage, will halt his polls and open the door to early elections.
end of Message/
Suggest this for the front page
.