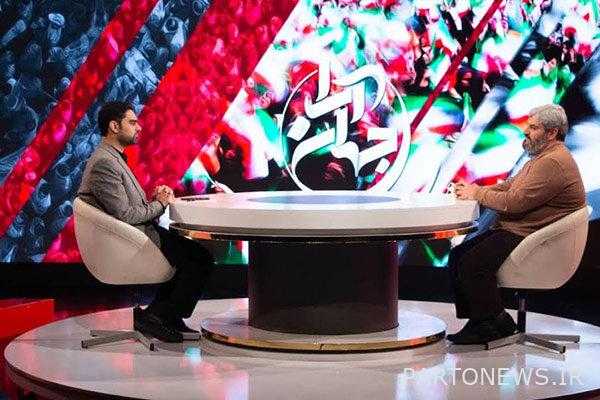 According to the Mehr news agency, quoting the public relations of the "Jahan Ara" program, the latest episode of this program, on Saturday, January 2, with the theme "A look at the developments in the region after the martyrdom of Sardar" and performed by Amir Hossein Sabeti, aired on Ofogh.
In last night's "Jahan Ara" program, after reviewing the news of the week by Amin Salimi, a conversation took place with Mukhtar Haddad, the editor of Al-Wefaq newspaper, and Ali Abdi, a researcher of the Zionist regime.
Zionist researcher Ali Abdi said in the program about the declaration of a ceasefire by the resistance group: "In recent events, there was still resistance from groups that imposed a ceasefire on the Zionist regime, even though Hamas had launched an offensive."
He said that the main threat against the Zionists is the northern front, namely Syria and Lebanon, adding: "The most important border threat to Israel is the northern front, which should be used properly."
Israel was counting the moments for the assassination of Hajj Qasim!
He added: "According to the Zionists, the US withdrawal from Afghanistan has eliminated one of the most important levers of pressure against Iran, and Iran, despite the martyrdom of Haj Qassem Soleimani, has not stopped and will never stop."
The Zionist regime researcher, pointing out that there was a coherent network in the assassination of Sardar Soleimani, said: "The assassination of Haj Qasim should not be limited to Trump or even the US government, but the Zionists have been seeking the assassination of Haj Qasim since 2011, even according to a narrative from 2008 and since the assassination of Emad Mughniyeh, Hajj Qasim was one of the targets.
Abdi continued: The Zionists say that we could have assassinated Haj Qassem Soleimani many times, but we did not do it because we could not pay his expenses.
In the end, he stated: The assassination of Hajj Qasim was an Israeli demand that was carried out by the United States, and the Zionists imposed this issue on the United States.
.