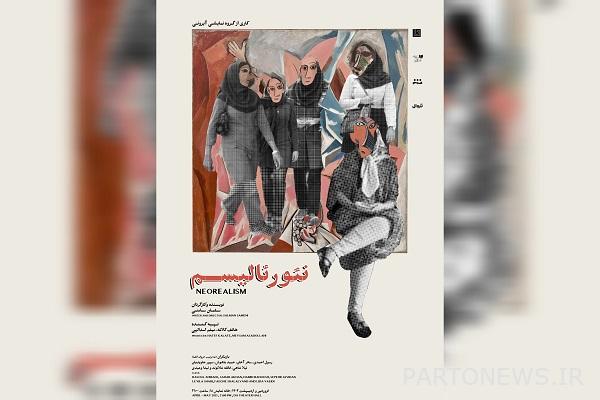 At the same time as the presale of the show "Neorealism" started on Tival website, the poster of this show designed by Sadeq Hosseini was unveiled.
Charso Press:
to the public relations of the group; The play "Neorealism" written and directed by Salman Samani and jointly produced by Hatef Kalate and Maysam Asdalahi, will be staged at 21:00 on Friday, the 25th of April 1402, in Hall No. 1 of Tamashakhane Da. Samani, who previously had the experience of directing the show "Cheshamha chera nabiinand", the documentary film "Tarikh Hamgan" and several artistic and literary projects in his career, in his new show "Neorealism", the presence of actors such as (in alphabetical order): Rasool Ahmadi, Sahar Akhan, Hamid Bahosh, Sepehr Javidian, Leila Shahi, Fayegh Shalavand and Lida Waidi benefit. Also, among the factors of this 70-minute show, we can include; (Executive director: Behzad Javadanfard), (Executive director: Sohail Jamshidi), (Teaser production: Javaid Alipour), (Production manager: Behzad Rahmanpour), (Photographers: Dawood Vajdi, Alireza Ahmadi), (Makeup designer: Vahdat Sarchouni), (Public relations manager and media consultant: Amir Parsaian-Mehr), (Costume designer: Negar Moghimi), (Poster designer: Sadeq Hosseini), (Light designer: Mohammad Saeedi), (Assistants: Sara Hakim, Ali Abbasi) pointed out.
Referring to the summary of this story, Salman Samani states that: Neorealism is the story of a girl's life getting lost between the boundaries of reality and fantasy because she is unable to face the terrifying face of reality.
At the end of this news, it is noted that the discounted pre-sale of tickets for the show "Neorrealism" has started on the Tival website, and dear audiences can go to this website to purchase tickets or visit the theater box office at the following address: El-Khebanal St., Khark St., First Dead End, No. 5 refer to