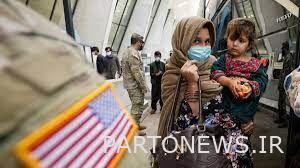 According to IRNA on Tuesday, CBS News reported, citing documents from the US Citizenship and Immigration Services (USCIS), that the country has received more than 46,000 asylum applications from Afghans since July 2021. And many of these applications are still being considered.
According to US officials, a total of only 4,246 applications had been processed by the beginning of this month (June), of which 297 had been accepted.
The report shows that although the United States has resettled more than 70,000 Afghans who have helped fight the Taliban, more than 90 percent of those seeking to enter the country as part of a conditional humanitarian mechanism have applied. Have been opposed.
The statement from Human Rights Watch said, "This situation has been particularly devastating for women and children, who make up 80 per cent of new Afghan refugees, as they face increasing protection risks such as family separation, stress, exploitation and "They face gender-based violence."
The US government has used stricter criteria when deciding on applications for parole from Afghans who fled the US evacuation operation last summer, prompting asylum-seeking groups to side with the US government, the report said. Accused of accepting refugees.
The Department of Homeland Security has reportedly stated that Afghans are entitled to parole under "very limited circumstances." This right includes close associates of US citizens or residents, former staff members of the US Embassy in Kabul, some special immigration applicants, close associates who moved to the US last year, and individuals with serious and targeted injuries.
CBS wrote: "Apparently one of the reasons that most Afghan parole cases are not dealt with is that the US Department of Citizenship's Service handles only 2,000 applications a year – not tens of thousands."
The Russian news agency Sputnik referred to US discriminatory policies in accepting refugees and wrote: Two months after the start of the Russian special military operation in Russia, the Biden government launched a program called "Unity for Ukraine" that allowed American citizens. Help war-displaced people come to America.
"Unlike most US immigration programs, which take months or even years to process, Ukrainian cases are reportedly processed electronically for weeks or even days," it added. In less than three months, 37,000 Ukrainians have been allowed to travel to the United States, and 11,000 have entered the country, according to the U.S. Immigration and Citizenship Office.