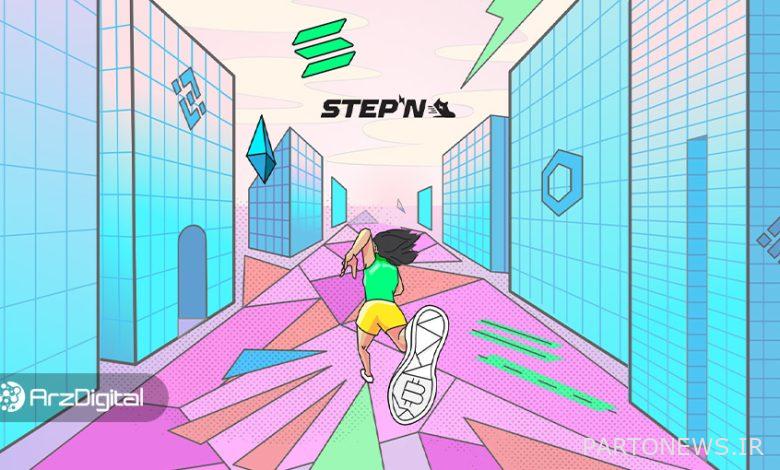 For some time now, one of Solana's network-based programs called STEPN has been making a lot of noise. In this program, users can receive digital currency in exchange for the steps they take during the day; But what is the story of this noisy project and how to earn money from it?
To Report Kevin Desk seems to be another subset of Gamefi in It is expanding and has attracted many users so far.
The Stepan project, launched by the Find Satoshi Lab team with the idea of ​​"Move To Earn" on the Solana network, generated $ 26 million in revenue in the first quarter of 2022. Stepping on a Money-Making Scene Similar to monetization-based games, it is a program in which users are rewarded with digital currencies depending on the number of steps they take.
Shiti Manghani, one of Stepan's senior executives, said that the number of downloads of this application has reached one million:
We have had 100,000 active users daily since mid-March, and that number has doubled since then.
While other monetized games provide an incentive for people to engage in online gaming, Stepan is emerging as a prototype in the field of gimpay, allowing users to look for fitness instead of sitting and playing with their mobile or PC. Be fit and healthy and earn money this way. In this new model, users buy special shoes in the form of NFT tokens and are rewarded for every step they take.
Increasing the success of steppen also has side effects. For example, the STEPN 5K event is scheduled to take place during the AthensDAO Conference, which is dedicated to Solana-based decentralized organizations. Dean Pappas, project manager for the social network Grape, which is helping to organize the conference, said many Grape members are already using Stepan.
He says:
We're excited to show people programs that relate to digital currencies and apply them in real life. Stepan is one of the best examples that has managed to simplify and integrate this experience. It is enough to exercise for 10 minutes a day and earn money from it.
The app rewards each user with steps in their native digital currency, the Green Satoshi Token. According to Kevin Gekko's website, the price of the Satoshi Green Token has risen 40 percent in the past 30 days.
In Stepan, just like Axie Infinity, users must purchase an NFT to get started and get rewarded. According to Manghani, the daily trading volume of Stepan NFTs in the Solana network is now about $ 12 million. Former CEO of fitness company Breathe Happy said the project is attractive to users; Because "they do not have to have a پ 1,000 bicycle [۱٬۳۰۰ دلاری] "Buy."
Also read: Play and make money; The best Chinese block games
Currently, the cheapest NFT sneakers available at Stepan 11.5 Solana are priced at $ 1,000. Players must own at least one of the game's most expensive NFTs to earn money by running.
Of course, Stepan is planning a feature of renting these shoes, in which users can borrow other players' sneakers for free without having to buy expensive NFTs and share in the revenue from running with them.
"The price of Stephen sneakers is rising sharply," said Papas, director of the Grip group, referring to the need to launch the feature.
Leasing digital assets in monetized games has been criticized for creating a kind of "digital slavery". In this case, players who can not afford the NFT required to play these games are renting them out to third-party lenders. Players play long hours in this mode; But they get a small salary.
Of course, there are also games where participation is free.
For example, in the game based on Genopets, players receive digital currency in a similar way to their real-life activities. Since building the necessary NFTs to play and earn tokens in Genooptz is free, it can be said that this project combines the model of free games and games to earn money.
Genooptz, which is currently the only trial version, has been relatively less popular so far. Jay Chang, one of the platform's co-founders, said the game will attract 30,000 players on Fridays with new weekly challenges and will be more popular on this day.
These figures are small compared to Stephen, and show that people are more willing to pay to participate in projects with a drive to make money.