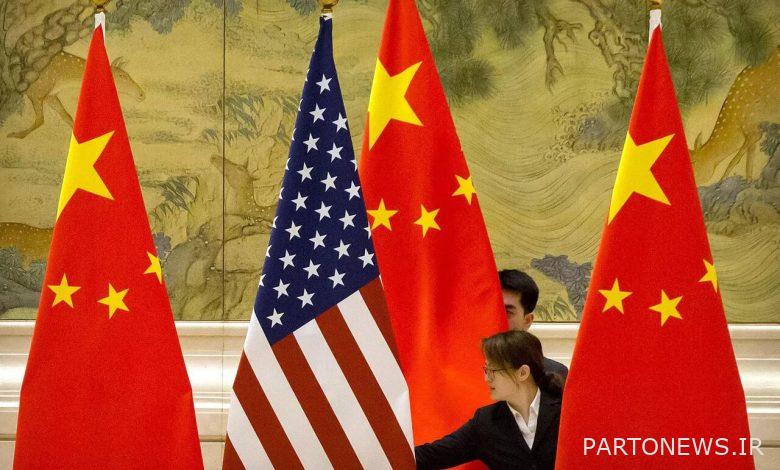 There is no doubt that there is a ground for reducing tensions and preventing extra movement, which is fueling unwanted crises between Beijing and Washington, IRNA reported on Sunday, quoting the website of the National Interest. But previous notions of normalizing relations between the United States and the People's Republic of China may be outdated.
"Will US-China Relations Improve One Day?" US-China Relations At least since March 2020, when Chinese Foreign Ministry spokesman Zhao Lijian unprecedentedly sent US troops and then-US President Donald Trump to crack down on the Corona virus. He had read the Chinese virus, was responsible for the Covid-19 epidemic, and entered a new and tense phase. Nearly two years later, observers are looking for the first signs of improvement in a relationship in which both sides have realized the value of cooperation and the risk of unbridled tensions. However, efforts to improve relationships may be in vain.
The author adds: "After senior officials in Washington and Beijing held a militant meeting in Alaska in March 2021, and also after a virtual meeting between US President Joe Biden and his Chinese counterpart Xi Jinping." In November (November 1400), which was mostly commercial, observers found that the situation was different. It was in the days following these meetings that Chinese warplanes continued to fly over Taiwan, continuing a campaign of months of military pressure. Similarly, in December (December 1400), the Biden government announced a diplomatic boycott of the Beijing Winter Olympics and convened a summit of democracies without China and Russia; The actions were met with strong criticism from the Chinese government.
However, such behavior has never been uncommon in relations between the two countries, and the two sides in the post-Mao Zedong era generally follow a cyclical pattern, and any failure quickly gives way to recovery. Gives.
One example is the crash of a US Lockheed EP3 reconnaissance aircraft with a Chinese Shenyang G8 fighter jet over international waters near Hainan Island in 2001, which killed a Chinese pilot and temporarily detained a US crew member. It created a bilateral crisis. Both sides blamed each other for the fall; On the one hand, the Chinese opposed the landing of a damaged American plane at China Airport without a permit, and the Americans accused the Chinese of taking the crew hostage incorrectly. However, four years later, senior US officials said US-China relations were at their best in three decades.
Another example is when American planes mistakenly dropped bombs that hit the Chinese embassy in Belgrade, killing three Chinese citizens in 1999. The Chinese government believed the attack was deliberate and later demanded compensation, but decided not to fundamentally change relations with the United States. Two years later, China joined the World Trade Organization with the support of Washington.
According to a senior member of the American think tank, the decline in relations has been brief. Historically, there has been a consensus in both countries that maintaining a constructive relationship is worth enduring several adverse developments. But today there is little certainty about the recovery after the recession. Because the fundamental conditions affecting US-China relations have changed.
Until recently, the United States enjoyed superior military and economic power over China, which helped build lasting relations.
China, for example, was not in a position to seriously harm the United States. Therefore, Washington had the privilege of taking a calm approach to strengthening China militarily and economically. Accordingly, Washington's policy toward Beijing was not entirely mobilized for competition and deterrence, but included efforts to encourage China's integration into international organizations with the aim of avoiding "treating China as an enemy."
For Beijing, the power imbalance that remained so much in the US favor in the post-Cold War period meant that China could not directly challenge the US strategic position in East Asia, nor did Beijing's will to the surrounding countries. Acting against the agenda of China under the auspices of Washington, did not impose.
Today, however, that power differential is greatly reduced. Although China may not be militarily superior to the United States, the People's Liberation Army is now strong enough to impose horrific costs on US forces in a scenario where US forces try to deny China's regional military victory. . In addition, China's enormous economic importance gives it a strong strategic leverage. Beijing can use its trade power as a weapon against non-aligned countries to advance its goals in political disputes, such as South Korea and the issue of the Todd anti-missile system (an anti-ballistic missile system developed by the American company Lockheed Martin). Is made) to benefit. Another problematic fact is that the People's Republic of China has a reasonable chance of taking the lead in developing key technologies of the future, such as artificial intelligence, green energy production, quantum computing, and advanced drugs.
From this day on, China's arrival in the United States as a rival will re-establish relations between the two sides. Washington now sees the People's Republic of China as a current enemy rather than a potential future enemy, and preparing for a possible war and avoiding cooperation that may be in China's strategic interest is an immediate concern for the United States. Has become.
In addition, the domestic political climate in both countries is increasingly opposed to a return to the previous bilateral normalcy.
Reducing the power gap with Washington has given China the courage to step in to accelerate the transfer of leadership in the Asia-Pacific region from Washington to Beijing, and even to treat the United States as a subordinate power.
On the other hand, the American business community today is not as good a champion of good US-Chinese relations as it once was. Although American businesses have not given up on China completely, they have complained about some of the Chinese government's approach to trade cooperation with the United States.
What is needed for recovery?
Experts say the most likely way out of the current situation could be an economic crisis or political turmoil pushing the United States or China out of competition, similar to how the Soviet Union and the United States pulled out of the Cold War.
Another obvious possibility is that Beijing and Washington will reach an agreement on strategic division and influence in the region. This is bad news for US allies and close partners in the region who fear Chinese domination. Any deal acceptable to China, including withdrawing US support for Taiwan and possibly other concessions such as agreeing to Chinese ownership of the South China Sea, canceling Washington's alliance with South Korea … could upset Washington's Asian allies. .
But if Beijing's demands are accepted, regional confidence in the United States to maintain its remaining commitments will be severely weakened, and Beijing may not see this as a permanent settlement, but an incentive to push more for the last remnants of US strategic influence to withdraw. See from the area.
.