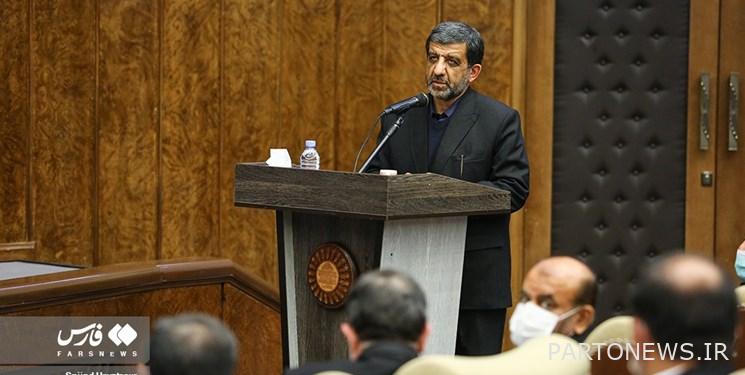 According to Fars News Agency, quoting the General Department of Public Relations and Information, Engineer Seyed Ezatullah Zarghami in the conference of cultural heritage deputies of the provinces said that preserving, introducing, explaining and interpreting as the most important duties of cultural heritage deputies and added: "This important task has dimensions It's a lot. "You have to know your duty and believe in what an important mission you have."
He stressed the importance of recognizing and preserving tangible and intangible heritage, adding: "You must have the most serious and credible narrative with full knowledge of cultural heritage. "Also know the works and textures, protect them and provide the most accurate interpretations."
Utilizing the capacity of cyberspace activists, managing provincial funds and fair distribution and expertise of provincial funds to maintain and restore works, interacting and cooperating with related agencies and the private sector, interacting with the Foundation for the Preservation of Relics and Sacred Defense Values, are other indications of the Minister of Culture, Tourism And handicrafts were in this meeting.
Referring to the use of the capacity of roads and highways to create culture and introduce cultural heritage, he said: "We are designing and standardizing the movement to introduce roads to install billboards and introduce cultural heritage. "I have had talks with the Minister of Roads in this regard. The cultural heritage deputies should identify and prioritize the main places in the provinces."
Referring to the holding of periodic meetings with the directors of the ministry, Mr. Zarghami added: "We have explained 17 strategies for the directors so that we can implement them in a common language."
The Minister of Heritage, Culture, Tourism and Handicrafts stressed the importance of sanctuaries, adding: "In this regard, groups have been formed in the ministry, and with the cooperation of the research institute, we are working on expertise and explaining the issue to solve people's problems."
He also cited courage in decision-making as one of the most important management principles, saying, "In some cases, we have to make the final decision and put an end to some disputes."
Regarding the subject of registration, Engineer Zarghami said: "A work that deserves to be registered should be followed up and registered, but we do not have a registration competition. Quantity does not matter, it is important to record a work that has value. "In addition to legal responsibility, we also have religious responsibilities in this matter, and we must be aware of this."
In the end, the Minister of Cultural Heritage, Tourism and Handicrafts emphasized the power of the country's cultural heritage deputies and expressed hope that the missions in this field would be properly explained and that the values ​​and message of the revolution would be properly implemented.
End of message /
Suggest this for the front page
.