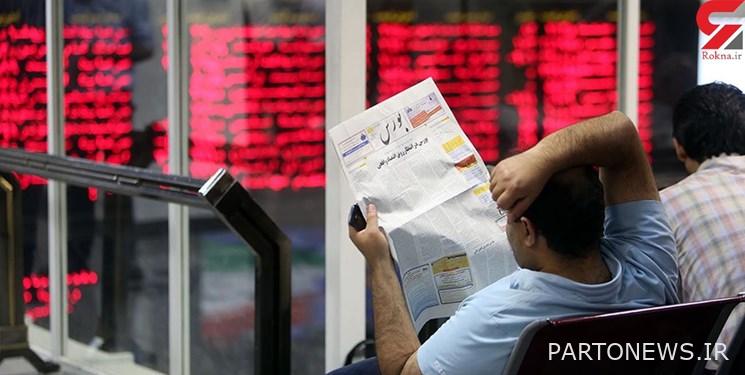 According to the correspondent of Fars News Agency, Tehran Stock Exchange was in a downward trend today, so that at the end of trading, it reached the figure of 1 million 579 thousand 157 units with the loss of 12 thousand 196 units.
Also, the total index with the equal weighting criterion decreased by 2217 units and reached 473 thousand 199 units.
The daily value of the companies in the stock market reached more than 5 million and 829 thousand billion tomans. Today, traders traded more than 13 billion shares and financial bonds in the form of 536 thousand items worth 7437 billion tomans. All the indices of the stock market turned red today, although the amount of decrease was below one percent, so that the total index and the price index decreased by 77 hundred percent with the weight-value criterion. These two indices decreased by 47 hundred percent with the equal weight criterion. The free floating index decreased by 72 percent, the first market index of the stock exchange dropped by 84 percent. But the index of the second market of the stock exchange decreased by 67 percent.
Today, the symbols of Mobarakeh Steel, Meli Mes, Middle East Mineral Holding, Shasta, Isfahan Oil Refinery, Bandar Abbas Oil Refinery, and Gol Gohar had the biggest negative effect on the stock market index.
In Iran's foreign exchange, the total index decreased by 161 points and reached 20 thousand 215 points. The market value of Iran's first and second over-the-counter markets increased to more than one million and 99 thousand billion tomans. The base market value of the over-the-counter exchange was 384 thousand billion tomans, today traders traded more than 6.6 billion shares, preemptive rights and financial bonds in the form of 303 thousand transactions worth 6031 billion tomans. With this account, the value of today's stock and over-the-counter transactions reached more than 13,500 billion tomans.
Today, the symbol of Bank D had the greatest increasing effect on the index in the OTC, and on the contrary, the symbols of Pasargad Insurance, Ariasasol, Lavan Oil Refinery, Omid Taban Hor Energy Management, Bahman Diesel and Kausar Insurance had the most decreasing effect on the OTC index.
According to Fars; Due to the process of stabilizing the exchange rate and the announced policies of the central bank, the capital market is decreasing, on the other hand, the task of the next year's budget bill has not been clarified in the parliament, and the parliament has not even announced the receipt of the bill that the government sent to the parliament. While investors should have a predictable and stable outlook for investment to thrive.
end of message/
You can edit this article

Suggest this article for the first page