cultural and artistic
radio and TV
A calligrapher who lost his eyes to train a student / What was Master Banan's opinion about Hossein Mirkhani's position as a fiddle player?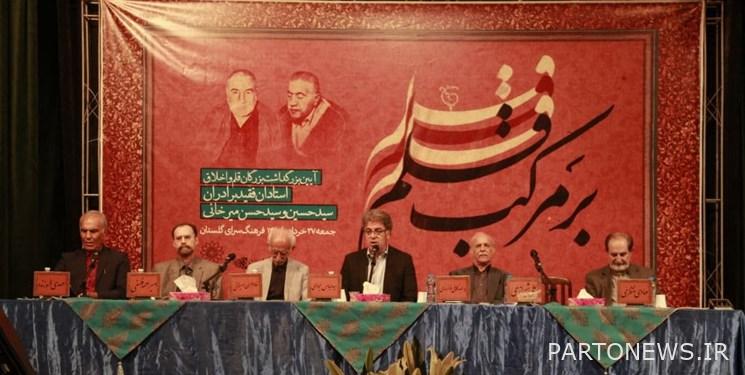 According to the Fars news agency, a special program "on the ink of the pen" and a ceremony honoring the great writers and ethics was held last night, Friday, June 17, at the Golestan Cultural Center. In this ceremony, the memory of 2 late masters, brothers Seyed Hassan and Seyed Hossein Mirkhani, was honored with the presence of well-known figures in the field of calligraphy such as Gholam Hossein Amirkhani, Amir Ahmad Filsafi, Yadollah Kaboli, Mehdi Forouzandeh, Hadi Montazeri and …
At the beginning of the ceremony, the children of professors Seyed Hassan and Seyed Hossein Mirkhani were invited to be honored by their presence. Akhtar Sadat Mirkhani, the son of Professor Seyed Hossein Mirkhani, and Fatemeh Sadat Mirkhani, the son of Professor Seyed Hassan Mirkhani, were invited to this section.
Akhtar Sadat Mirkhani shared a memory of his father. "My father had a problem with his eyes because of diabetes," he said. I remember when my eyesight became acute, my sister and I took her to the doctor. The doctor immediately said that you should act or you will lose your sight. My father's reaction was remarkable. He told us to wait a few days, because my students have an exam and should not be left behind. The doctor asked if you lost your sight for this reason. He replied: Yes. I have 2 eyes but they have 400 eyes. They are the future masters of the country.
He added: "Unfortunately, after a few days when we went for treatment, the work was over and my father became blind." Of course, now that I see these professors present at the meeting, I tell myself that my father was right, because they kept his name and memory alive with their art.
Fatemeh Sadat Mirkhani also stated: My father always saw God as his guardian and I never saw him do anything against the religion. I thank Golestan Cultural Center for organizing such an event to keep my father's memory alive.
After this celebration, a roundtable was held with the presence of professors Gholam Hossein Amirkhani, Yadollah Kaboli, Amir Ahmad Filsafi, Mehdi Forouzandeh and Hadi Montazeri, the fiddle teacher, and they introduced the artistic and moral aspects of the Mirkhani brothers.
Gholam Hossein Amirkhani said in a speech: I remember during the ministry of Mr. Jannati, a glorious ceremony was held in the birthplace of Mirkhani professors in Alborz province. This meeting was a gathering to express our high artistic status, to remind ourselves of the sublime personality of these two masters and their good character and morals as a teacher. Of course, such meetings were supposed to continue in Karaj, but they were not held.
He added: Around 1340, I had the honor to understand the presence of both professors and in addition to the educational aspects, to understand other parts of their ethics, behavior and character. Both brothers worked in an office facing each other throughout their lives. The presence of both people in the same place has many meanings and shows that they were complementary in terms of morality and knowledge. I have many memories of those two masters in this regard.
I remember that they had an office in front of the Sepahsalar Mosque for almost two decades, and I used to go to the ministry to serve them politely. One day when I went to them, I saw that both masters were going to go home. I was able to walk the path with the two and witness their conversations along the way. There was considerable technical and scientific discussion in the field of calligraphy among them, and the main conversation was about who is more masterful? All this time, they both respectfully argued that I was a master! In the end, Master Hussein said to his brother: Brother! You write sweeter than me, but I am more masterful. Keep in mind that throughout this conversation, these two people spoke with such respect and love that it was really a role model for all of us. To talk to each other first and to have the strength to hear another word.
Amirkhani described an interesting memory of his encounter with Master Banan and said: "I remember 2-3 days before Master Banan died, I went to his house to visit him." In that meeting with him, what about the position of fiddle player Ustad Hossein Mirkhani? He said that he is in the second place of this art. I think it is very valuable for him to say this.
Yadollah Kaboli, referring to the artistic status of the Mirkhani brothers, said: "Professors Seyed Hassan and Seyed Hossein Mirkhani were the custodians of our country's high art in the field of calligraphy, and I regret that no film was made about their lives and I think we fell short in this regard." I believe that these two people have an eternal place in our art.
He emphasized: I have been a student of Master Mirkhani in the Calligraphers Association since 1346; One of the important features of Professor Hassan Mirkhani in the class was that he recited advice along with art lessons. Thoughts that were truly humane. Another important point I saw in his behavior and character was his fatherly attitude towards the students. Master Mirkhani was to me like a father from whom I learned everything.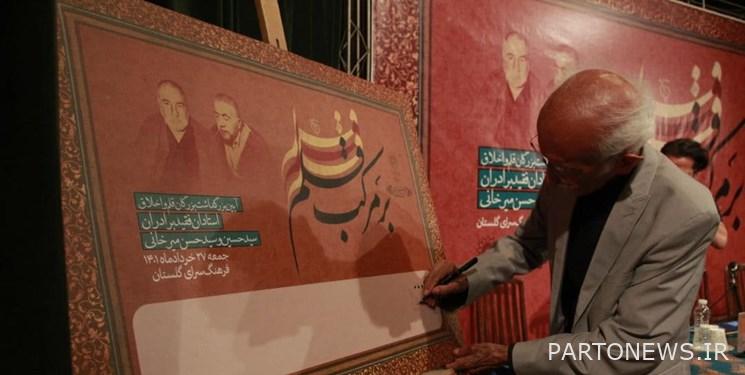 Amirahmad Filsafi was another calligrapher who spoke at the event. He thanked for holding such a meeting and said: "I hope we will take the right steps in recognizing and respecting the artistic values ​​of our country and transmitting the concepts hidden in the ethics, character and behavior of Mirkhani and other veteran artists to the young generation." I believe that the young generation of calligraphers in our country needs to know their past history.
He continued his speech by quoting a memoir from Professor Hassan Mirkhani and said: I remember that I came to his service for the first time in 1976 and asked him to teach me the art of calligraphy. He suggested that I go to the Calligraphers Association, and he gave me a thoughtful answer. They said that if I wanted to teach you, you would have to pay a fee of one month for each session in the association. So it is better to go to the forum to see several training sessions instead of one. In my opinion, his ideology and ethics towards the student is exemplary.
This calligraphy teacher stated: Note that before the 1360s, we had very few resources in the field of calligraphy. If it were not for the calligraphy of these masters and they did not write calligraphy books, this art would not have made significant progress in our country. In my opinion, the Mirkhani brothers were the mediator between the art of old calligraphy and the art of new calligraphy. Of course, Professor Hassan Mirkhani had a book and Professor Hossein Mirkhani was a student.
Hadi Montazeri was another music and fiddle teacher who spoke at the event. He said: "The dignity of my presence here is that in addition to the art of calligraphy, Master Mirkhani also had a hand on the fiddle." I remember one day when we were practicing with Master Shajarian, he told me to come with me because I want to take you to a good place. We went with him to Master Mirkhani's house. At that meeting, he asked him to play the fiddle, but he said that he had not played music since I went to Mecca. Finally, at Mr. Shajarian's insistence, they played the fiddle for a few minutes, and Master Shajarian also filmed the music. Unfortunately, I do not have this film, but it can certainly be found in Master Shajarian's archives. Dear Homayoun, I ask you to provide us with this film.
Mehdi Forouzandeh, the calligrapher of the country, said in another part of the meeting: I was one of the youngest students of Master Mirkhani and I am one of the 400 students mentioned by Master Mirkhani's daughter. There is no doubt that Professor Seyyed Hossein Mirkhani was the founder of the Calligraphers Association, because his character and behavior showed that he was an administrative person. Another important issue is their succession. I believe that if we were not in the service of Professor Gholam Hossein Amirkhani today and he had not replaced Professor Mirkhani, the association would never have reached this foundation.
He added: "The cornerstone laid by these two professors has come to fruition today and we have more than 420 first-rate professors across the country."
Gholam Hossein Amirkhani in the last part of the meeting pointed to a golden decade in the Calligraphers Association and said: "I think the 1981s had a special place in the Calligraphers Association, because in that period, with the support of publications and very high sales of calligraphy books, the figure received for educating students." We had lowered the association so much that even the weakest sections of society who were interested in calligraphy could be educated. We also had the opportunity to hold national seminars to transfer the experiences of professors to all students in the country.
End of message /
Suggest this for the front page