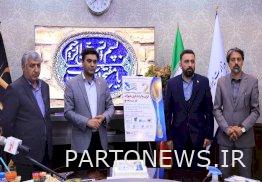 According to Heritage-Aria and quoting the Public Relations and Information Center of the Ministry of Heritage, Culture, Tourism and Handicrafts, a specialized seminar explaining the Iranian food development project this morning, June 27, 1401 with the presence of Seyed Mostafa Fatemi Firoozabadi, Director General of the Ministry of Interior Tourism Development Office at Mehrabad Airport The topics of the process of using new approaches to global bait to attract and welcome foreign tourists in the field of food tourism were discussed.
Also pointing out how this event will introduce the most common concept of the food service industry in the world, to measure the compatibility and assimilation of Iranian food that has the necessary capabilities in this concept and also focus on counting the root and specialized issues in the tourism sector. The feed was emphasized.
Focusing on various capacities of food tourism as a new product of the country's tourism industry, protection of cultural and civilizational assets of the country in order to address the capacities of this field, revival of international flavors in Iranian food, explanation of evaluation indicators and progress of Iranian food development project, revival of traditional food instructions Iranians based on Iranian taste as well as quick access and popularity of the country's indigenous food in accordance with international interests were among the topics raised at the event.
Also present at the meeting, which was attended by public and private tourism managers, experts and managers of catering units and skilled Iranian chefs, Seyed Mostafa Fatemi, Director General of the Office of Domestic Tourism Development from the poster of the second national event in Iran and food tourism in the new century It was unveiled on August 1 this year at the International Conference Center of the Radio and Television.