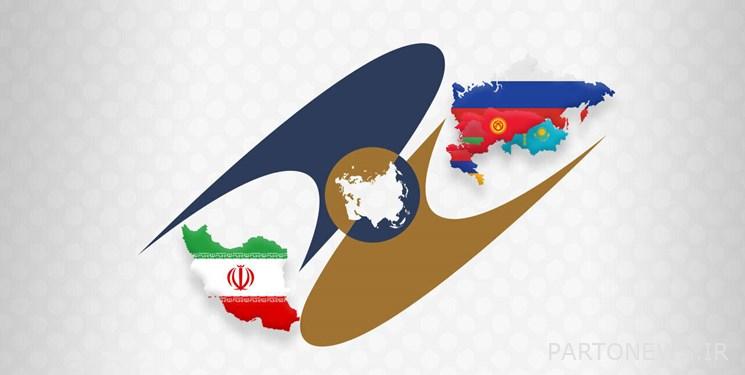 According to Fars News Agency, quoting the Trade Development Organization of Iran, Alireza Peyman Pak in a special news conference last night entitled "Opportunities and Challenges of Export to Eurasian Countries" regarding the mission of the President and First Vice President to examine trade barriers with countries in the region. He said: "In order to increase exports to Eurasian countries twice, it should be emphasized that the market of Eurasian countries is a market with a size of $ 400 billion, of which Iran's share has fluctuated between 1.2 to 1.3 billion dollars."
Referring to Iran's small share of the market of the five countries of the Eurasian Union, he said: Iran has a comparative advantage to meet the needs of these countries and can be in the fields of dairy, food, construction materials, petrochemical products, etc., which are major materials. Imported from Eurasian countries is a supplier.
deputy Minister صمت He pointed to the geographical advantages of Iran and said: "If the north-south corridor is launched in Iran, countries will be able to access India, Southeast Asia and Africa with a 30% reduction in time and cost."
He called the recent crises between Russia and Ukraine an opportunity for Iran and said: "Recent events have created a special opportunity for Iran because European countries have left the Russian market and there is practically no connection between them." Therefore, the transfer and supply of goods is difficult, so in practice, if we want to double our $ 1.2 billion exports, it will not be out of reach.
According to Peyman Pak, this opportunity was provided for Iran in 1993 and 1994, which we could not take advantage of due to the unpreparedness of the infrastructure, despite Iran's comparative advantages.
He pointed to three issues of market development, logistics and financial infrastructure to use the existing opportunities and said: "In the first stage, there is a need to develop the market and recognize Iranian products in the Russian market." In this regard, the first large Iranian delegation with the presence of 70 Iranian businessmen and 300 Russian businessmen visited Russia last month, and soon delegations from the Chamber of Cooperatives and the Chamber of Commerce will travel to Russia to familiarize Russian businessmen with Iran's potential. The best way to meet their demand.
The second phase, which is of great importance, is the infrastructure logistic "Currently, if our 500 trucks reach 700 trucks a day, we will face problems, even if there are border problems," he said. Astarakhan Will be solved again in Azerbaijan we will face problems, while we have the Caspian Sea route that we can use ships رورو Bulk and … to use this space in the best way, which has been paid special attention to during this period.
Peyman Pak stated that during his recent visit to Russia, the officials of Iran's shipping lines were also present, adding: "During the negotiations, it was agreed that Iran would buy several ships and use several other ships as charters in the Caspian Sea;" Because Russia now has about 70 ships in the Caspian Sea, but Iran has only 10 to 15 ships that need to increase.
He also said about the country's railway fleet: "Despite the holidays, meetings with the Minister of Jihad for Agriculture and the Minister صمت We had to determine how we can equip the country's railways with tractors and refrigerated wagons, etc., to expand our trade, and also to activate the north-south corridor; Because this event creates a multiplier capacity for the transfer of goods through transit for Iran.
The head of Iran Trade Development Organization called the third axis issues of financial exchange between countries and said: "Financial issues are of great importance, during which the Central Bank of Iran is pursuing and launching a financial network between Iran and Russia and obtaining quasi-guarantees." الIs so that traders can be assured of the return of their currency.
He considered the inability to produce as much as the needs of target markets as another problem in order to increase exports and said: "Iranian public and private companies are not able to meet the needs of target countries, because Iran, unlike other countries, exports excess domestic production and No export production. However, if the export production is done, it will be based on the standards of the target market and production and investments can be planned based on it.
Emphasizing on consortium building, he said: During this period, consortia have been created in the field of food products, shoes, medicine, etc .; Also, joining big global companies and brands can be very effective and helpful.
deputy Minister صمت He continued: creating mechanisms and projects in the field.T.We are training and exporting products with the aim of exporting and how to operate according to production standards.
Regarding the customs needs of the country's exports, he said: "The private sector should be updated and our export and management methods should be changed in the government to get out of traditional exports. Therefore, we should be present on platforms and from smart markets or the same." Use smart markets.
Peyman Pak pointed to the need for customs assistance in this regard and said: joining and automatic communication with the customs of the target countries; Creation Green corridors between countries; Sending documents to the electronic or online communication approach between the customs of the target countries and based on the authentication and approval of documents is one of the needs of the country's customs.
He pointed to the planning to prevent export bans and said: "In some cases, the market regulation headquarters imposes bans that are illegal; But we are planning to prevent these bans and to coordinate between the government and the High Council of Trade.
end of Message/
Suggest this for the front page