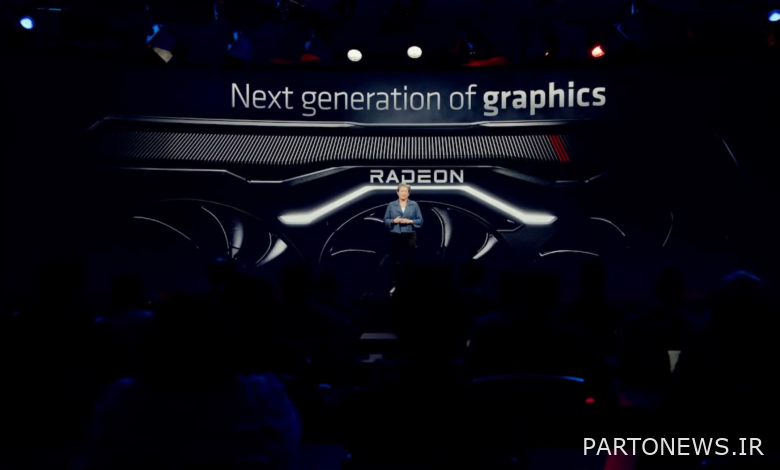 A few hours ago, the AMD conference was held during the CES 2023 event, and the company unveiled its latest products. One of the most important introductions of AMD, the laptop version of graphics cards Radeon RX 7000 RDNA 3 It was the company that all are based on 6nm lithography.
AMD Radeon RX 7000 laptop graphics cards
AMD has introduced not one model, but four models of Radeon RX 7000 graphics cards for laptops based on the RDNA 3 architecture. These four models include Radeon RX 7600M, Radeon RX 7600S, Radeon RX 7700S and Radeon RX 7600M XT graphics cards. All these four graphics cards are based on the new Navi 33 silicon, which has a substrate area of ​​204 square millimeters and uses the TSMC 5N 6nm node.
Let's start with the Radeon RX 7600M XT and Radeon RX 7700S graphics cards. Both graphics cards have 32 CU units with 2048 shader processors and are equipped with 8 GB of GDDR6 memory with a frequency of 18 Gbps and a 128-bit interface. In addition, both cards have 32 MB of Infinity Cache memory and their power consumption is between 75 and 120 watts.
On the other hand, we have the RX 7600M and RX 7600S graphics cards, which have 28 CUs (equivalent to 1792 shader processors). The memory of these two graphics cards is still 8 GB GDDR6, but 16 Gbit/s G6 chips are used for them and not 18 Gbit. These cards also have 32 MB of Infinity Cache memory.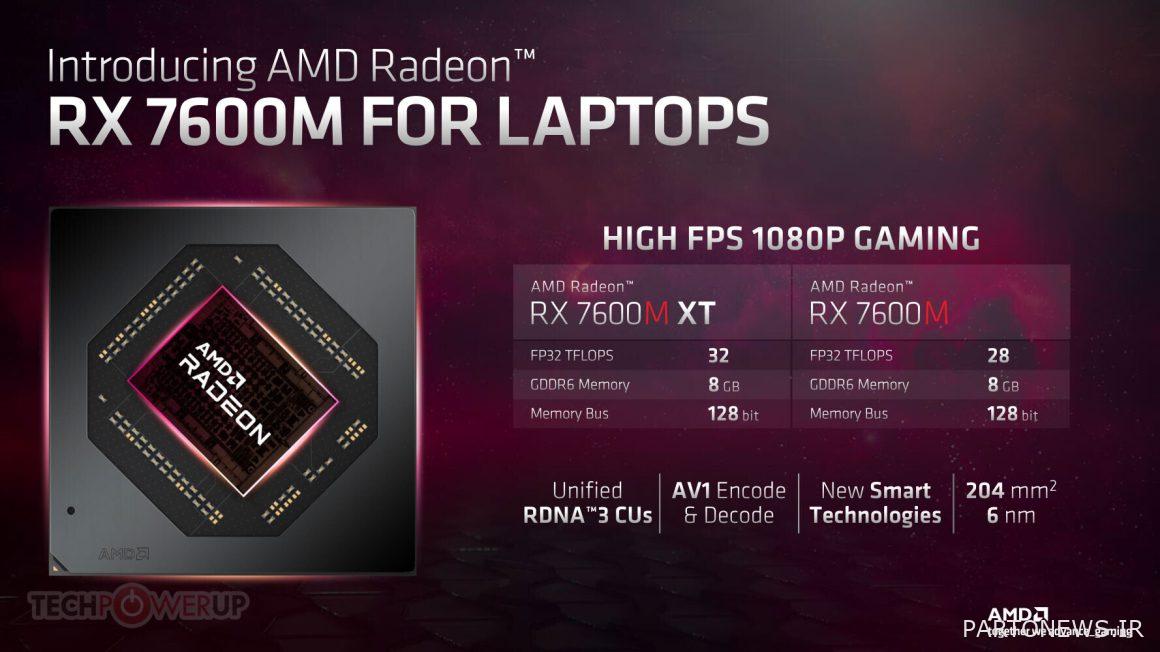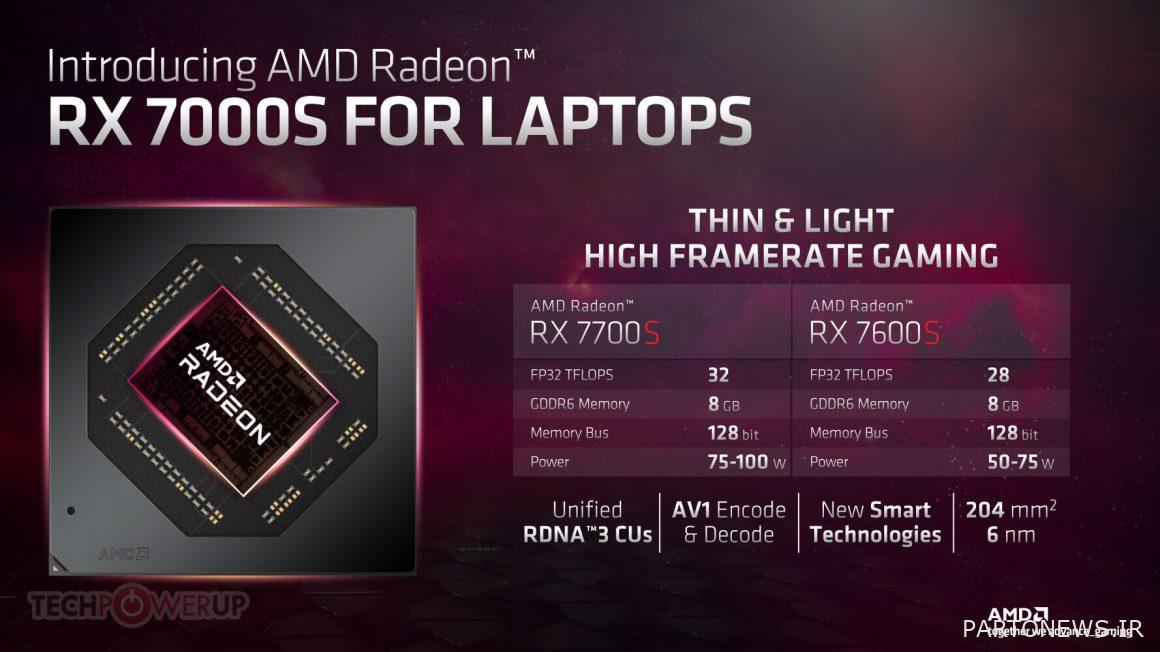 All four cards of this series support RDNA 3 architecture capabilities such as AV1 encoder and decoder and smart technologies such as SmartShift and SmartAccess.
Performance equal to RTX 3060 12GB
In terms of processing performance, AMD puts the Radeon RX 7600M XT graphics card against the RTX 3060 12GB graphics card, which has just been replaced by the new RTX 4060 graphics card. The rest of the introduced graphics cards in this series all fall below the RX 7600M XT and should be compared to cards weaker than the RTX 3060. Of course, AMD has not yet introduced graphics cards for laptops based on Navi 32 silicon, and with their introduction, the game will change a little.
As AMD says, the new generation Radeon RX 7000M RDNA 3 graphics cards perform up to 30% better in encoding and decoding compared to the previous generation, and their charging capacity in gaming is up to 60% higher, and the frame rate they offer in games is up to 33 The percentage has increased (Forza Horizon 5).
The supply of Radeon RX 7000 RDNA 3 laptop graphics cards will begin in the first half of 2023, and laptops equipped with these graphics cards will also hit the market by February.
Related posts