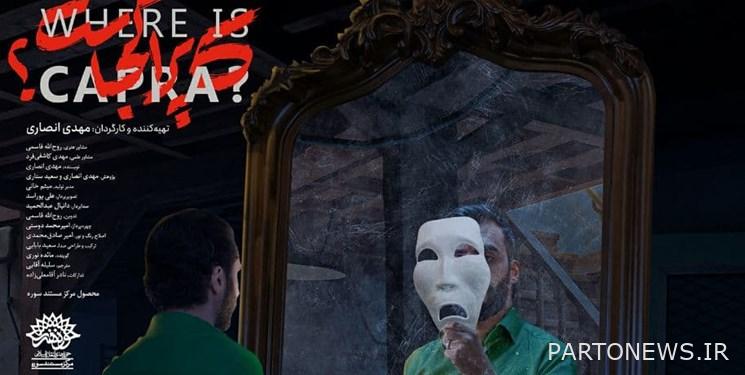 According to Fars News Agency, "Where is Capra?" He believes that the purpose of this documentary is to say that the blackout that friends show through reflection does not help society in the general process. In such a situation, the mission of art is to keep people hopeful, because reform comes from the heart of hope.
"Where is Capra?" Produced and directed by Mehdi Ansari, it is the title of the latest work of the Soura Documentary and Television Center, which takes a critical look at blackmail in Iranian visual and visual works and explores the place of hope in Iranian cinema.
This work deals with the issue of hope in American cinema by examining the idea of ​​Iranian cinematographers that "cinema is the mirror of society" and also has a look at Frank-Capra, an Italian-American director, and his works as the most promising director.
Mehdi Kashefifard, the scientific advisor of the documentary "Where is Capra?", In an interview with a Fars News Agency radio and television reporter, first stated that his entry into this documentary is also interesting in its kind: The first documentary in "Where is Capra?" You see, he asked and the discussion and challenge started between us. When our conversation ended, I realized that Mehdi Ansari had recorded my voice. At first I was upset, but he said he had recorded my voice to see if this new narrative model would work.
He continued: "In this documentary, we had a challenge with Mehdi Ansari in many parts, which has also been shown in the work." The main theme of the documentary is what is cinema basically? Is it a reflection or is it going to shape? Where is Capra? We had theoretical discussions, and during the documentary we made sure that the theoretical and content line of the work remained and did not disappear.
Scientific consultant of the documentary "Where is Capra?" In response to the question why, despite sitting in front of the director and talking to him about Omid Cinema, his face is not shown during the work, he said: In the initial parts of the documentary, a mysterious atmosphere is created because the director talks to me that the audience He only hears my voice and does not see my image. In fact, this voice represents the ideas and thoughts and answers that exist in society. Of course, these are not all answers, and people who have worked more in this area can give better answers.
In another part of his speech, Kashefifard said that Iranian films screened at various festivals convey a wild image of the country with criminal, backward and backward people, which is rooted in the tradition of Orientalism and a historical mentality. "Different forms and states are reproduced," he said. A society is backward.
He emphasized: "We do not create such works for the festival even within our borders, we represent it and we know that just as some people believe that art is a reflection of society, our mind also has a reflective and mirror feature, that is, a mirror-like behavior in parts of our brain." Representation is how we do it, and in addition to this repetition, it determines and shapes our behavior. That is, behavior is formed based on the theory that cinema is a reflection; In addition, they show the ugliness of society.
According to Kashfi-Fard, the purpose and idea of ​​"Where is Capra?" That is to say, the blackout that friends display through reflection does not help society in the overall process. In such a situation, the mission of art is to keep people hopeful, because reform comes from the heart of hope.
He pointed out that many of the scientific discussions that could have been raised in this documentary have not been raised and still need to be addressed, he said: "Those who have studied in this field and have done more practical work, should talk about this issue and We require that before the space of formation according to the idea of ​​"Where is Capra?" Promote philosophical and theoretical debates about where we stand. What is the mission of art for us? What is its function for a diverse and Muslim Iranian society? And … be raised.
"Where is Capra?" He added: "Therefore, the scientific discussions that are raised in this documentary, and in my opinion, for many of them, no point is made, there are few and there are many more discussions that can be raised in this space." Documentary audiences may think that the person whose voice is being heard is arguing more scientifically, but Mehdi Ansari, the narrator of the documentary, is playing a searching role to find out how valuable the ideas are. In fact, the person whose voice is heard is different from the person in the search position.
"This documentary is the beginning of a dialogue," Kashfi-Fard concluded. On the other hand, the claim of this documentary is not great, but it presents a basic idea and then a discussion on the subject of the documentary is formed. In fact, this documentary can raise the question of what is the relationship between hope and art and when the desired result is achieved.
End of message / T131
Suggest this for the front page