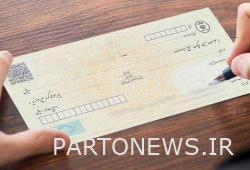 According to the monetary financial news quoted by Sarmayeh Bank's public relations, the "Mahchak" system (blocking the account of the issuer of returned checks) provides the possibility that in case of deficit of the check issuer's account with the bank, the desired amount from other personal accounts in the same bank Is blocked. Also, in the next stage, if the check is not secured in the same bank, the accounts of the person issuing the check in other banks and credit institutions will be blocked in the amount of the check deficit through the central bank review system, and then the legal process will be carried out by the judiciary.
It is worth mentioning that after the check is returned and the account is blocked, it is reflected in the customer's invoice and the issue can be seen in Internet Banking and Mobile Bank, and the customer is also informed via SMS, account blocking and unblocking.
Dear customers can also inquire about "blocked account amounts for returned checks" to the Central Bank website at www.cbi.ir and also to the branches of Sarmayeh Bank to inquire from the Samachek system. It is worth mentioning that the blocked amounts will be unblocked automatically after removing the negative effect of the returned check through the benchmark system.
It is worth mentioning that the experts of Sarmayeh Bank in the Capital Voice Center, number 021-4373, are ready to answer customers in this field at all hours of the day and night and all days of the week.