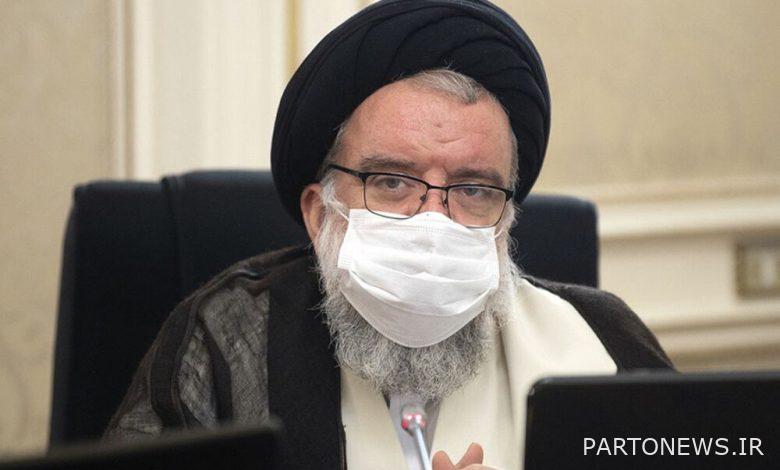 According to the Mehr News Agency, Ayatollah Seyed Ahmad Khatami in the gathering of culturally active women of Qeshm, stating that most of the veiled women do not have an accounting, he added: Any sin, even veiling, is forbidden, and the origins of veiled women are embezzlers, people who take astronomical salaries, or people who engage in illegal transactions and many others. They return to these uncommitted families from those who are not veiled.
He added: The support of my words are those without hijabs, and we have said that most people, but some have generalized it to the whole society and brought up the issue of loose hijabs.
A member of the leadership committee of the Assembly of Leadership Experts and a temporary preacher of Tehran's Friday prayer said: My words were distorted in the sermons of Friday prayers in Tehran, and there were veiled people on my words on that day.
Ayatollah Khatami commended the nationwide gathering of chastity and hijab, which was also widely held in Qeshm, and added: The issue of hijab in the world is a social issue, and it is not an individual who can do it if someone wants to do it and not do it if they don't want to do it, because it is the source of the collapse. Families and social insecurity.
A member of the leadership committee of the Assembly of Experts said: Hijab is one of the undeniable necessities of the national law, and in 1986, the Supreme Council of the Cultural Revolution approved a law with 300 articles for 32 institutions on the issue of hijab.
Ayatollah Khatami asked the families to enter the field of hijab because the character of a woman is precious in Islam and women should not be used with an expressive look like the ignorance of the new era.
He said: veiling is approved by the enemies of the regime and the revolution, and one should stand against these movements of the enemies, but some people also act arbitrarily and against the law breakers, and these actions should be continued through advice and the judicial system.
The member of the leadership committee of the Majlis of Experts continued: The dealings should be Islamic and within the framework of the law, and the law is obliged to carry out the necessary follow-up if there is a need for an executive discussion.
Ayatollah Khatami, recalling the anniversary of closing the Goharshad Mosque in Mashhad with a ball by Reza Khan, said: July 21 is the anniversary of an action during which the enemies of the religion built piles of the dead in the Goharshad Mosque and buried the bodies in large pits with trucks.