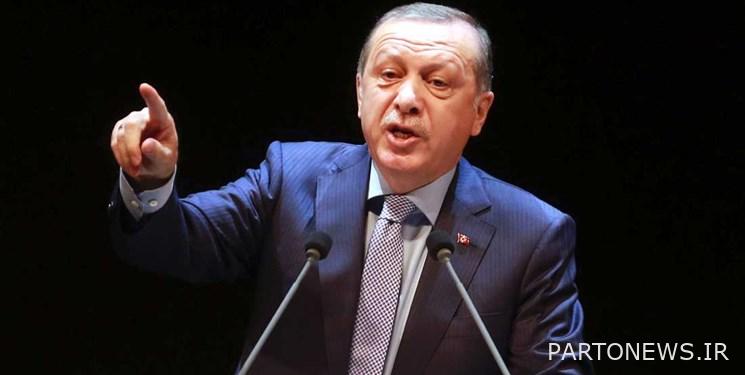 According to Fars News Agency's International Group, Turkish President Recep Tayyip Erdogan reiterated his threats to invade Syria this afternoon (Saturday).
According to the Anatolian News Agency, the Turkish President stated: "We have established the terrorist crossing that was to be established on our southern borders, in the form of Operation Euphrates Shield, Olive Branch, Fountain of Peace, Euphrates Shield. "We destroyed the 'claw-lock.'"
"We will continue to complete our security operations on the southern borders in the form of new operations," Recep Tayyip Erdogan added.
"The area near our southern border at a depth of 30 km (referring to Syrian territory) is our security zone and we do not want anyone to disturb us there," Erdogan added. "We will continue our actions in this regard."
Turkish forces have intensified their attacks in northern Syria for several days. The attacks intensified after Turkish President Recep Tayyip Erdogan recently told members of the Justice and Development Party that Turkish forces would clear Syria of Manbij and Tal Rifat of what he called "terrorists." . He also noted that the Turkish operation will gradually continue in other parts of Syria.
Erdogan had previously said that Ankara would continue its efforts to establish what it called a "safe zone" at a depth of 30 km along the southern border with Syria.
Damascus had previously reacted strongly to Erdogan's remarks and condemned it. The Syrian Foreign Ministry had previously responded to the remarks by saying, "Turkish President's absurd remarks about establishing a safe zone in northern Syria are hostile games that the regime is playing against Syria and its territorial integrity. The vicious bargaining that the Turkish regime has done and continues to do shows that it does not have the slightest political and moral understanding to deal with the Syrian crisis, because the regime itself has always been a part of this crisis and has planned to divide it. [سوریه] Has continued; "A plan that is only in line with the goals of Israel, the United States and the West."
End of message /
Suggest this for the front page