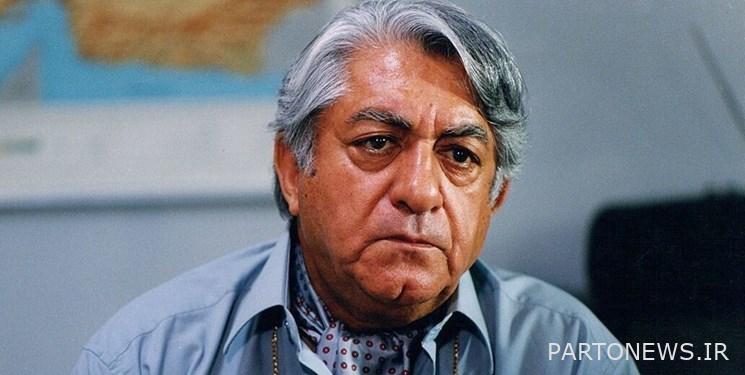 Fars News Agency – Art Group: Ezatollah Entezami was born on June 20, 1303 in Sangalaj, Tehran. After completing his elementary education, he studied electrical engineering at Tehran Industrial Conservatory. The law enforcement professor said in his memoirs that when he graduated, he was separated from his family because of his father's opposition to playing in the theater. His father was a military man and his mother, Roza Khan, did not believe in women's activities and never saw their son's artwork. He worked in Lalehzar and in theaters, and also worked in a coffee house. In 1326, Khorshidi entered the field of art and traveled to Germany with a few backgrounds in the arts of theater and theater. In the city of Hanover, Germany, he went to a night school to teach cinema and theater, where he studied acting. It was not an easy task because he worked hard in a factory for days in order to cover his living and studying expenses. After that, he returned to Iran and, while appearing on the theater stage and performing plays, he also acted in the field of dubbing and television works.
Iraj Rad, as one of Ezatullah Entezami's longtime companions and friends, remembers the experience of being a classmate at the university and working in the theater department with this late famous artist and says, "I met him in 1347, who was also in the group of Mr. Entezami and Ali Nasirian I was a member of the theater department and we were students at the same time in the college with Mr. Entezami. "Of course, Mr. Entezami came to college with a difference of 21 years while he was fully known. Naturally, despite his many abilities, he was interested in learning and attended classes regularly for four years."
It is well known that Entezami, in addition to his artistic qualities, was a very supportive person and helped all those who were interested in participating in this field. It is as if during his four years at the college, despite his outstanding artistic qualities, he was a down-to-earth and very intimate person, and he treated others as if he were at their level in terms of work and profession. While many professors expressed respect and admiration for teaching in his presence, he attended classes like an ordinary student. But he even did the same etudes that very elementary students did, saying, "I came here to learn," which was a sign of his very special personality. At the same time, he helped others and tried to be as accountable as possible to other students. He accompanied them in their work and even participated in multi-student student odes; All this while in the same years he acted in the movie "Cow" and was the first person to receive an award as an Iranian artist from a foreign country. In fact, in 1971, he won the Hugo Silver Award for Best Actor in a Leading Role for his film "Cow," directed by Dariush Mehrjoui, at the Chicago International Film Festival.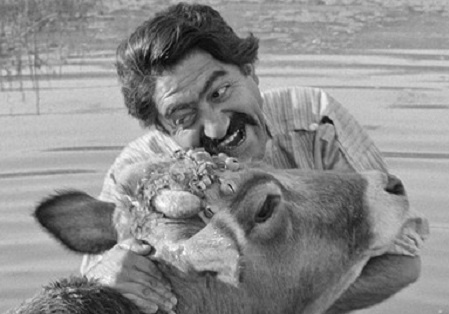 One of the outstanding features of Ezatullah Entezami was his special "discipline". Entezami had a Volkswagen tomato-colored frog that usually parked in front of the theater office at seven in the morning and headed for Ferdowsi Square; He walks for a few minutes and then returns to the theater to get ready for rehearsal. The rehearsals of the Ross Theater Office started at eight o'clock in the morning, and no one remembers that any of the members of the "People's Theater Group" – even Messrs. Nasirian and Ezatullah Entezami – were present at that place a quarter to eight minutes later. Although this order prevailed in most theater groups, it was a habit that was later repeated in film projects, and for this reason, this powerful artist spoke in a special and general way among his colleagues; As is still the case with Professor Ali Nasirian, this chronology is famous in art projects.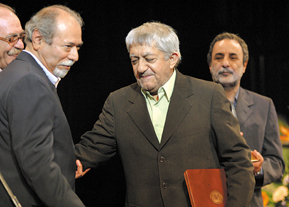 One of the prominent aspects of Ezatullah Entezami was his trade union and socio-cultural activities, which appeared in various stages and centers. He once accompanied the founders of the Cinema Museum. His popularity and character were used here as well. The Cinema Museum was established and he was the first managing director there. Farzad Hashemi, who was a member of the Supreme Council of the House of Artists for several years and was also the president of the National Association of Photographers of Iran, remembers the time when his daughter was studying and went to the cinema museum for his wife. He had young students and was an influential figure in motivating them to pursue independent art work. Babak Borzoyeh, who has close relations with the Entezami family and has kept many memories of this artist in his heart, believes that this museum might not have been established if it were not for the greatness of Ezatullah Entezami in the cinema. A speculation that may not be accepted by the other companions of the deceased, as if he was not once mentioned as the founder of the museum on a plaque installed in the museum, and even some disciplinary narratives of the establishment of the cinema museum in the form of a handwritten page in the book "I am honored." Children of Sangalaj »Ghazaleh Soltani's writing is not considered complete, but in any case, they also confirm her role and influence and her popularity in removing obstacles and accompanying the directors in establishing this museum.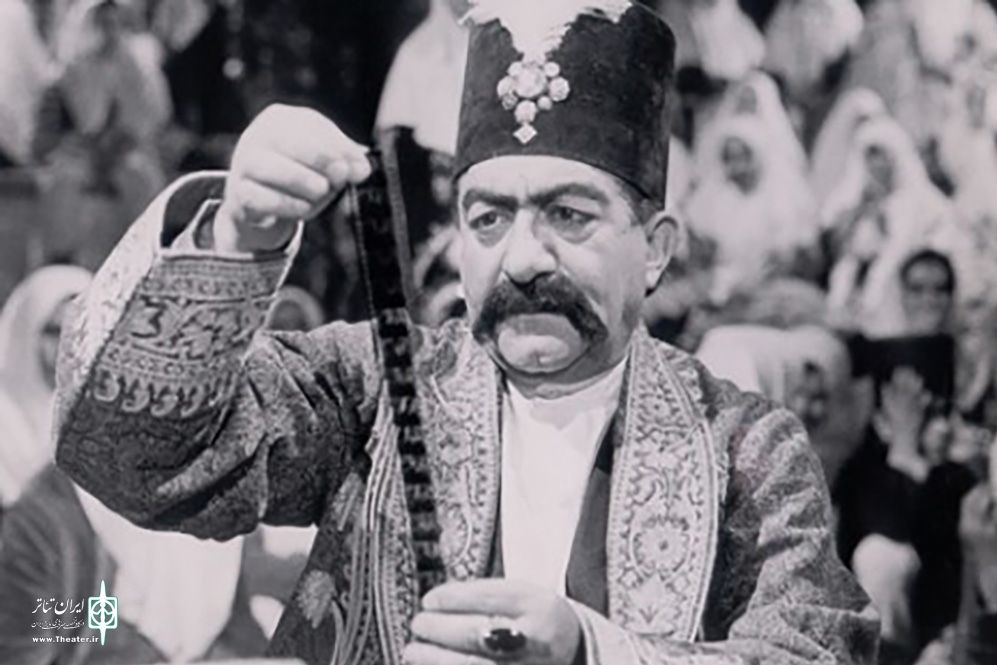 Entezami was the first artist to receive numerous awards from domestic and foreign festivals to the Cinema Museum, and it has become official to this day, which adds to the richness of this museum and the lasting memory of the proud artists in this field. Mr. Actor, in addition to the second Chicago Film Award for Best Actor at the 1971 Film Festival for Cow, the Best Actor Award for Grand Cinema at the 7th Fajr Film Festival, and the Best Actor Award for Angel Day at the 12th Fajr Film Festival. He was honored at the 10th Fajr Film Festival for his film Nasser al-Din Shah, a cinema actor and house of solitude, and also won a statue of thanks for the best supporting actor in Mr. Halo. In addition, Mr. Bazigar was a member of the Supreme Council of the House of Artists for several years. Perhaps it can be said that the presence of people such as Morteza Momayez, Ezatullah Entezami and Gholam Hossein Amirkhani at the head of the Supreme Council of the House of Artists and due to their outstanding features, turned this unknown institution into a space for the presence of prominent people and even the audience's expectations. »For a level of artistic quality.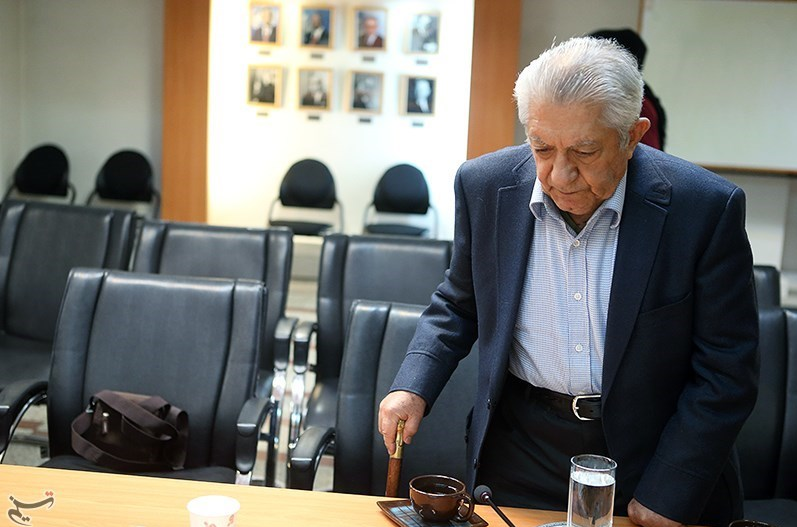 The fact is that not many artistic associations were formed at the beginning of the establishment of the House of Artists, but the explicit accent and independence of these people along with the lofty and unique artistic characteristics of these people, especially the fame and popularity of Ezatullah Entezami in his time, as a facilitator for formation. It became a suitable platform for the presence of associations, events and artistic figures in the house of artists. One of the achievements of the presence of people like him and the late Momayez was that this artistic institution should not be eloquent and should pay special attention to quality activities, provided that it continues its way properly in its new era.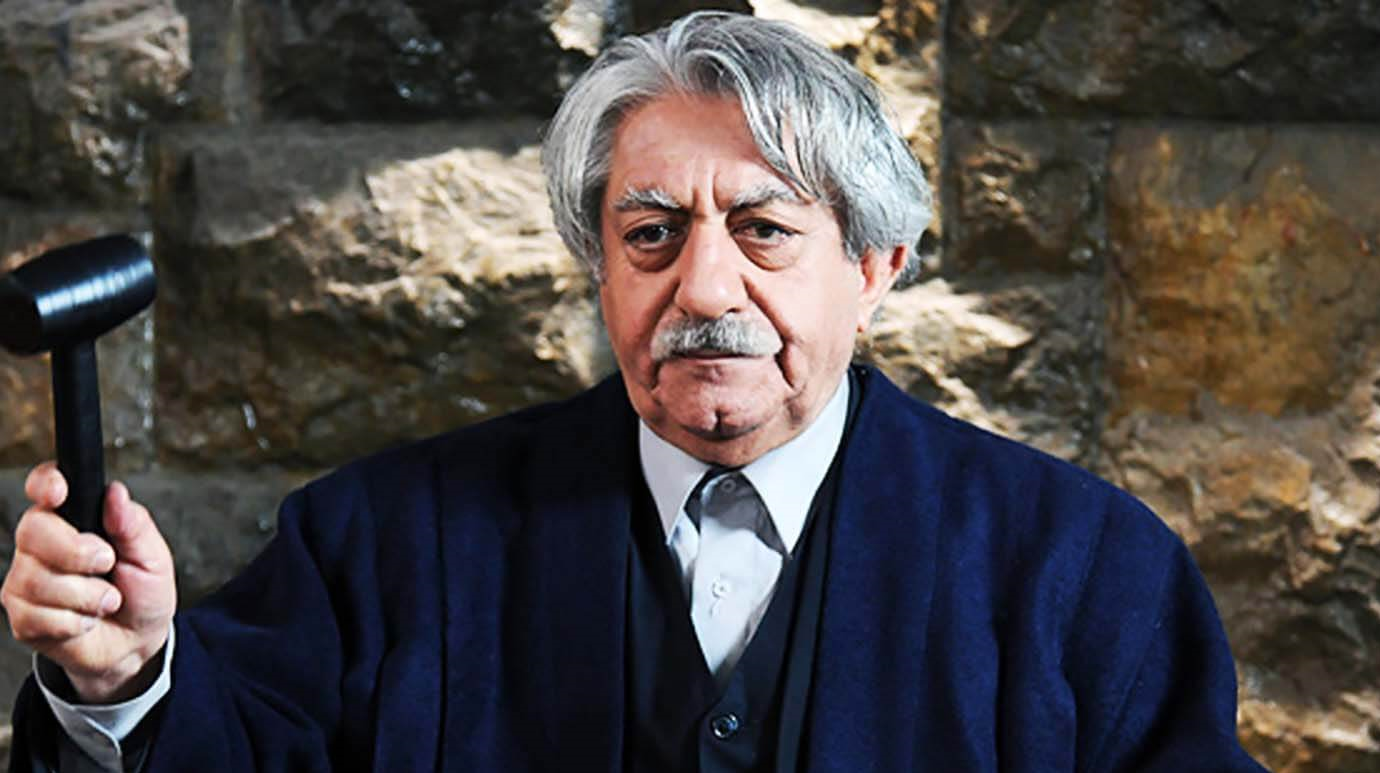 Entezami, at the invitation of Iraj Rad, was present at the meeting of the board of directors of the theater house, who was always elected as the chairman of the board of directors of the theater house with the highest vote. As long as he was alive, even when he could not walk and attended wheelchair meetings, he did his job with all his might. Interestingly, he also maintained the habit of being on time there, not only at the beginning of the meetings, which usually took place at two o'clock in the afternoon, but also a few hours earlier, coming to the association office to read a letter or, if necessary. Do something and take care of things.
According to Iraj Rad, one of the interesting features of this prominent artist during his presence on the board of directors of the theater house was that he never ate anything for lunch except bread and yogurt! Not only did he follow a special diet and have to eat such a simple meal, but apart from not believing in the health of non-home food, he was also concerned about not imposing additional costs on the theater house.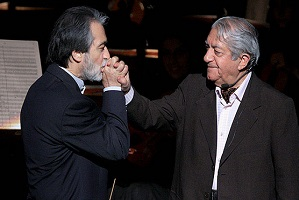 According to the testimony of most of the people who worked closely with Ezatullah Entezami and had a lot of publicity, his presence in the meetings was very effective. Sometimes due to differences of opinion, discussions and conversations that took place in the meeting, but the presence of this artist was always reassuring. Ezatullah Entezami tried to analyze and separate the issues so that even the most intense discussions could take place with complete calm. Farzad Hashemi, in this regard, considers him similar to the late Akbar Alemi and believes that "from this perspective, he was a universal discipline in all fields of art. If a scientist knew that people in the Photographers' Association had distanced themselves from each other due to differences of opinion, he would bring them together, even under the pretext of a souvenir photo, and somehow connect them. "The same was true of Ezzatullah Entezami on a larger scale, and given his popularity and special status, he acted as a bridge between artists in all fields of art, trying to bring people together with his own loving tone."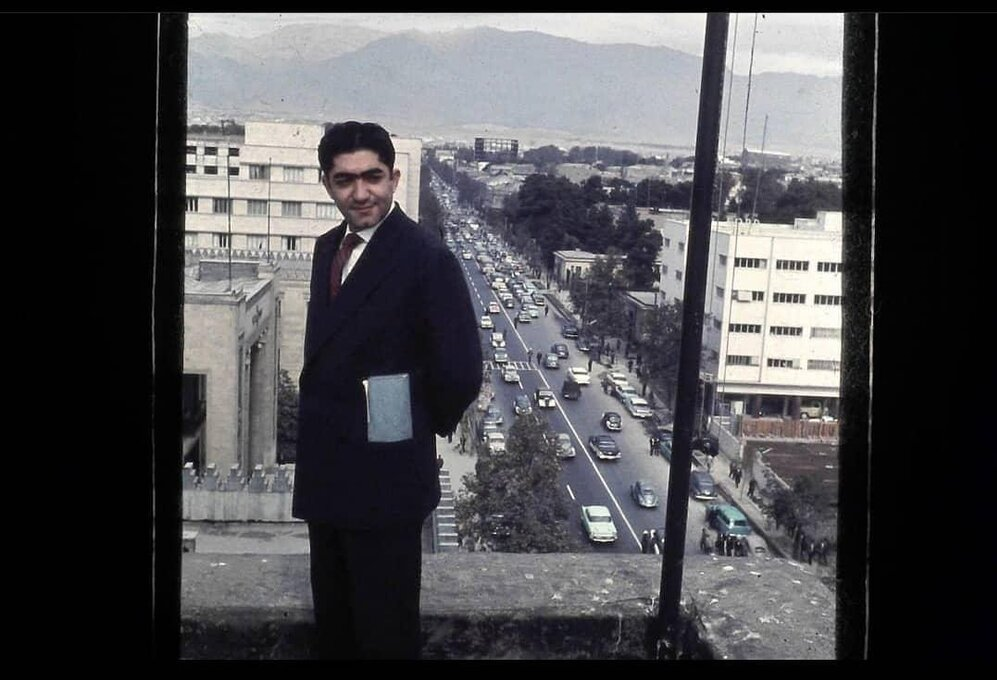 Ezatullah Entezami was a popular artist and had a clear accent, which was another characteristic of him. If he felt that something was right, he would say it regardless of the political position of the person in front of him, and of course, according to his popularity, he would say in a language that would be acceptable. Perhaps it was this feature that the board of directors of the theater informed him whenever he needed serious negotiations to remove an obstacle or to obtain a license or a budget in favor of a class or an artist, and Ezatullah Entezami was always in the forefront of these cases, even If it was an appointment in the early morning hours. It was this feature of his that led to the construction of the theater house on Somayeh Street. Not only was it easier to issue permits and donations and remove obstacles in his presence, but it was also easier to make appointments with senior managers such as the Minister of Guidance or the Mayor of Tehran in his name.
Ezatullah Entezami reached out to everyone, and many artists and people who were in contact with him sought his help whenever they encountered a problem. In this way, if he knew someone, he would get help from that acquaintance to solve the problem, and if not, he would use his fame and popularity so that he might be able to do something. At the theater house, a few months before Eid, he tried to find out about the situation of veteran or lesser-known artists and housewives, and without them being aware, he provided packages or gifts for their Nowruz in various ways to help. Be to them and maintain their reputation. On this basis, usually through the Artists' House, the Cinema Museum or directly from the Municipality of Tehran, he would take the foundations for such artists and deliver them to them in some way.
Ezatullah Entezami was not only trying to attract help for the House of Theater and Artists, but also at one time made efforts to help war-torn Afghans and the earthquake victims and the displaced, and headed to the Tehran bazaar. But his benevolence was not limited to this. According to Iraj Rad, when he was staying at home and could not even leave the house in a wheelchair, one day he invited him to his house to hold a meeting with his son Majid with a group of school-building donors and to use his facilities for this purpose. To speak. He stressed that the school was built in a deprived area and because the teachers were not satisfied that anyone was aware of this issue, he apologized for saying its location.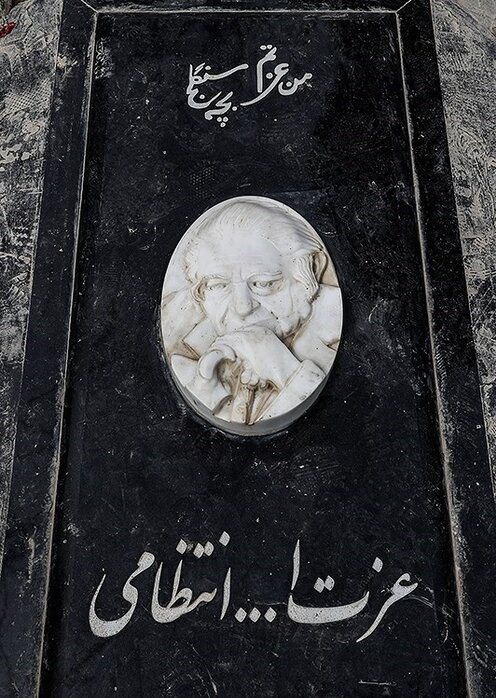 All of this can be considered as the subtleties of social ethics of this popular artist, and perhaps it is safe to say that Ezatullah Entezami, the greatness of Iranian cinema, never gave up his popularity for doing good and charitable deeds in various artistic and cultural fields. It was a facilitator in the formation of buildings and institutions that society may have benefited from forever. The popularity and influence of this artist was a credit that was spent on culture and art, and perhaps few people in this field have invested such social capital for the people.
Author: Mohammad Saleh Hojjatoleslami
End of message /
Suggest this for the front page