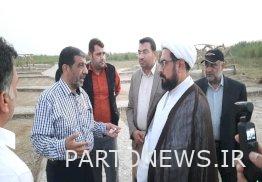 "Shadegan Wetland has a special position in terms of beauty, environment and bird life," said Engineer Seyyed Ezatullah Zarghami during a visit to the Shadegan International Wetland on Thursday, July 23, 1401, IRNA reported.
"This wetland needs more investment so that the people of the region and tourists can benefit from better services and take advantage of its natural features," he said.
The Minister of Heritage, Culture, Tourism and Handicrafts added, "Previously, there were facilities in this wetland that were not properly managed, and this lack of management led to the loss of investments."
The Minister of Heritage, Culture, Tourism and Handicrafts stated: "A low-cost investment model should be formed in this wetland so that with limited investment, minimum facilities can be provided in it."
Undertaking some expenses by the ministry for the safety of tourists
"The ministry will pay for the safety of tourists, especially when it comes to boats," he said.
Shadegan International Wetland with an area of ​​more than 500,000 hectares is located in the south of Khuzestan and is the largest registered wetland in the country in the list of international wetlands.
This wetland is connected to the Persian Gulf through several estuaries, which with its fresh water, saline and saline water, is a suitable environment for aquatic species, birds, rodents and domestic and wild animals.
Every year in autumn, Shadegan wetland hosts a variety of migratory waterfowl and shorebirds from the cold regions of Siberia, Russia, Central Asia and the interior of Iran.
This international wetland has been damaged by drought in recent years.