Marriage and family
social
Haj Qasim is not just your martyr! / The reaction of the people of the world to the martyrdom of Sardar Soleimani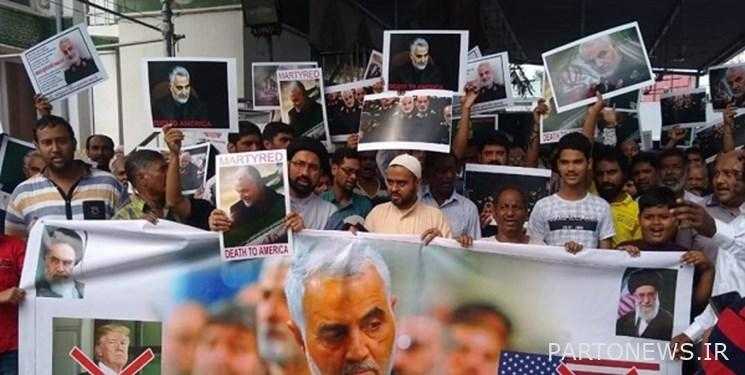 Life group: When a national hero leaves, they become a grieving nation, but not as if they were mourning a myth! It is as if they are sitting at the parting of their loved one. The martyrdom of Haj Qasem mourned Iran from house to house. Hajj Qasim's lovers have readable narrations from the day he filled them. In the following, we read the narration of Alireza Komili in the book of Hezarjan Gerami from the day of Sardar Soleimani's martyrdom.
Alireza Komili narrates that bitter Friday as follows: "I slept late at night. It was unusual. Because in our house, it is ten and a half o'clock at night. My lady says we should put the phone on airplane mode, because its waves are harmful and I never understood what the difference is between day and night in the effect of these waves! Since I tune the phone in the morning, I can not leave it too far. After the prayer, I just took the phone off the plane and slept a little due to fatigue. This, of course, was unusual for me. I always try to stay awake at that time and take advantage of my daughter to sleep and take care of the inexhaustible tasks. He is blessed early in the morning and finishes his part-time work.
It was half past nine when I woke up and turned on the TV. This was against the habit again! Because I do not watch TV at all, and in our house, except for an exception called news, the TV is either off or on a dynamic network. The atmosphere of the news network was unusual. I had not even opened WhatsApp Messenger yet. For me, WhatsApp, even before Telegram was filtered, meant connecting with non-Iranian friends; Because non-Iranian cyberspace is more prevalent on WhatsApp and Facebook, and for us in the International Union of the United Nation, which has been in close contact with non-Iranians for ten years, WhatsApp is as important as dinner. I have friends from Lebanon and Palestine to Myanmar and Europe who can not send me a spiritual sentence on their to-do list every morning and not congratulate me on Friday.
The television was subtitling that someone condemned this horrible crime, Bahmani called it a crime against humanity. I was still confused. The lady had woken up. I told her that something had happened and that someone had probably been assassinated. Our curiosity grew. Now I insisted on knowing what was going on and that the Dasht-e-Asrar news network read the convictions without mentioning its name.
I read the subtitles word for word, maybe I noticed something. I even changed the network, but it did not work. I went back to the news network but it seemed like it was supposed to keep me in amazement. I was angry as if they did not intend to tell me who was assassinated! I picked up the phone.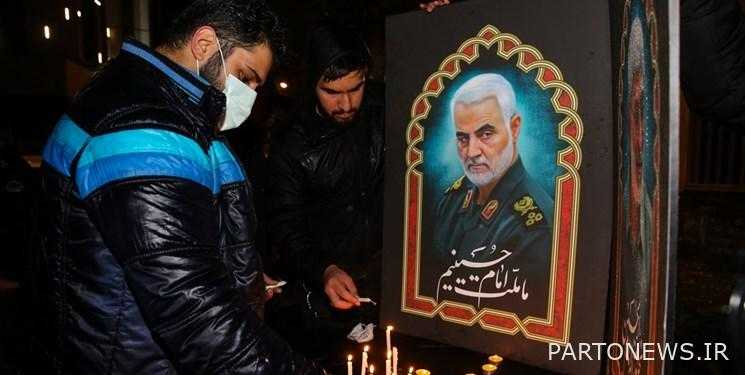 I wanted to search the internet, but as usual, I opened WhatsApp and read the first message from Sheikh Ahmed, a Palestinian friend living in Malaysia. My heart sank at once. I was stunned. شهادت حاج قاسم را تبریک و تسلیت گفته بود باورم نشد. Because once or twice he asked me about rumors about the martyrdom of Hajj Qasim and other issues. I did not believe. I wanted to write that the news is false. But I said to myself, let me be sure first.
I left WhatsApp and went to the Fars website. I said that whatever happened, you can find out here. One eye was on the phone and the other eye on the news network. I was going crazy if the news was not true ?! Until I opened Fars, the news network also posted a photo of Haj Qasem. I could not bear it. I relaxed and sat on the floor. My tears flowed unconsciously. I controlled the sound of my crying so that my daughter would not wake up in a panic. My wife noticed me from the kitchen. I said they beat Haj Qasim! He ran towards me as I sat in front of the TV. Now two of us were shocked and crying. It was not possible to control the tears, like now that I am writing those moments after months.
I was sitting on the sofa. It was hard to believe. How I hoped the news was a lie. Like before, but what should have been done. When I opened WhatsApp, it was exploding, messages were pouring in from everywhere.
I was on my own when Abu Muhammad, a Palestinian friend living in Istanbul, called. I could not answer because of a sore throat. I refused the call. Called again. I rejected and thanked him for his sympathy and wrote: We will talk later. A few hours later, when we called, I was in a state of hatred and did not speak a few more words. He also understood me. He comforted me with his words and said well that the right of these Mujahideen is martyrdom and no better fate awaits them. Most of the messages, especially from the Palestinians, were "congratulatory" messages; The martyrdom of Hajj Qasim was considered a great victory and they congratulated him on his salvation. Perhaps they congratulated because their nation was familiar with martyrdom.
When I calmed down, I decided to respond to the messages first, and then go to the groups. "Count on me too." He was very strong-hearted, I thanked him and wrote: Hajj Qasim must have been a martyr of the nation and Palestine, not only of the Iranians!
Kowsar woke up when he saw us, he was scared and hurriedly asked why. His mother explained that Haj Qasim had been martyred. He may have been a little upset about us, too. Like myself when I heard the news of Imam's demise. I was a child then and playful. I was upset but I do not remember whether I cried or not!
When I saw Haj Mohammad's message of condolence, I calmed down more. He is a member of parliament in an African country. He is a Brotherhood and is committed to the revolution, but he is very critical of our performance in regional issues. Many Iranians do not know that our presence in Syria, although necessary, had many negative consequences for our global image.
Haj Mahmoud, however, is a relatively fair and healthy person. His previous message to me was at the same time that we had shot down an American drone and seized a British ship. He tweeted: "Despite my previous criticisms of Iran, it's commendable that this country, unlike the humble Gulf states, has been able to build up its power to confront the United States in the region." Because of this bad and misleading text, he had heard that "you are defending the killers of the Syrian people", but because he considered it right, he had said it. It is strange how some of our people and domestic institutions do not understand that after the collapse of the great Islamic powers in the last hundred years, the problem of all Muslims is to restore their lost dignity and whoever smells this dignity will be attracted to them.
I answered Haj Mohammad's message and thanked him. The volume of messages was very large. I prepared an identical answer in Arabic and English to send to them. I gave specific answers to many people that could not be thanked. It took several hours to respond to the sympathies.
Shiites were also very hot; Especially Pakistani, Iraqi, Bahraini and Afghan children who had a better understanding of Haj Qasim. They were very numerous. I offered my condolences to the Iraqis in particular on the martyrdom of Abu Mahdi. I also talked to some Pakistani friends who offered their condolences. One of them was a Sufi Sunni who typically does not interfere in politics. "Hopefully there will be revenge against the Americans," he said. Some begged me to pray: "If you are at their funeral, remember us." It is as if the atmosphere of the fronts was revived at once and it was the blood of the martyr that made everyone strive and boil.
End of message /
Suggest this for the front page
.