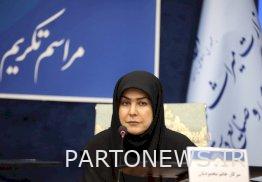 According to the report of the Aria Heritage correspondent, in the message of Pouya Mahmoudian, which was sent today, Monday, June 7, 1401, it is stated:
In the name of God, which bestows honor and dignity on his servants
Greetings and Regards
Dear and proud artists and craftsmen, dear friends and colleagues
As a small and permanent member of the large family of handicrafts, I thank you for your patience, tireless efforts, support and cooperation, and I appreciate all your love and kindness, the assets of my country.
We experienced many ups and downs and faced adversity and bitter and difficult days, oppressive sanctions, floods, coronations, etc., each of which was breathtaking and exhausting, but with the help of God's grace and together we overcame the hardships. We did not lose hope and we continued and we will continue and the memories of these days became a lesson for empathy and companionship.
I thank God and he also witnesses that without a moment's hesitation, I proudly put everything I had from knowledge, experience, power and wealth in accordance with sincerity and spent it in the direction of the authority of the everlasting handicrafts of the loving country.
With love, faith, belief and perseverance, I sincerely and sincerely strived for the promotion of handicrafts and traditional arts of my dear country of Iran and the satisfaction and excellence of the dignity of artists, professors and veterans, and God Almighty bestowed many successes and blessings in this way.
And certainly from now on, as in the past, I will not leave this glorious treasure of my land with any prejudice and zeal of any effort to expand, develop and promote handicrafts and traditional arts.
Thank God that I asked God for everything
I became Kamran on my own efforts
May the well-known name of handicrafts and traditional arts of the Islamic Republic of Iran always resonate in the world and shine in the sphere of art.
It was free and the security of every service I did …
"On the 20th of Khordad, the International Day of Handicrafts, congratulations to all of you, the pioneers of the art of this border and region."