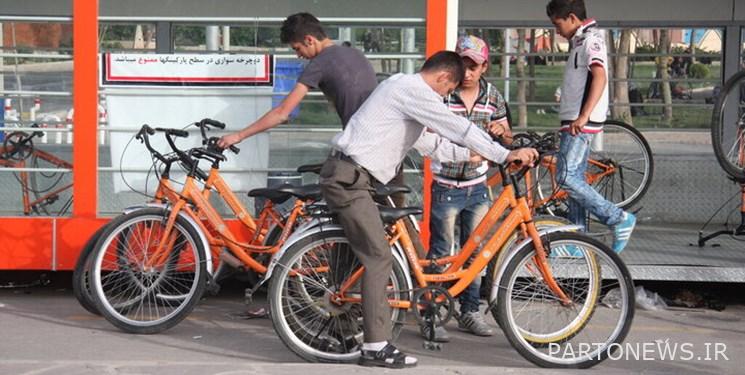 Fars news; My Persian: The audience of Fars Man interactive system registered a campaign and demanded the return of smokeless bicycles to the city of Tehran. Alireza Rezaian, one of the supporters of this campaign, said in an interview with Fars reporter: "I live in the center of the city. "During the day, there is a lot of commuting and traffic there due to the presence of various businesses, that's why using smokeless bicycles made my commute very easy."
Smokeless bicycles were orange-colored shared bicycles that have been active in Tehran since 2017. The users of these bicycles could use these bicycles for a small fee and stop the bicycle or ride the stopped bicycles anywhere in the city. Bidood started with 26 official stations in Tehran and gradually expanded and more than 5700 bicycles were active in it. After some time, this project was also activated in Shiraz city.
Supporter of the campaign continued: "I use the Baharestan metro to go to my workplace. As long as there were bicycles in the city, I used to go from home to the subway with them, but since these bicycles have been collected, I have to spend a lot of money to commute to work."
The plan of smokeless bicycles, but after several ups and downs, finally in August 2018, it was gradually collected from the city level and now it is not implemented anywhere in the city. Mojtaba Shafiei, the former deputy of public transportation in Tehran, said in 1401: "The design of smokeless bicycles is a mode of transportation that cannot be removed in any way, but it has not been used much in Tehran, so we should try to contribute to this." Increase non-motorized mode that contributes to citizen health, reducing traffic and air pollution."
Rezaian, who has a lot of traffic in the city center and especially in Tehran's Republic Street, while criticizing the collection of bicycles, said: "I see many motorcycles that transport different passengers without observing any law, and I have witnessed many accidents of these motorcycles. If these bikes are launched, especially the electric model, many people can use them, which can be useful in terms of time and reducing risks."
Pointing to the advantages of these bikes, Poish's supporter said: "As an employee, I don't have much time to exercise during the day. These bicycles had a great impact on my physical health, so that I could exercise for half an hour in the morning to get to the subway."
Criticizing the management of those responsible for maintaining this project, he said: "The design of smokeless bicycles could have gradually become a culture. Even I personally was used to it but suddenly it was collected for no compelling reason."
Yaqub Azadeh Del, the manager of the Clean Transportation Systems Development Unit, announced in June 1401 about the new project of shared bicycles, which was planned by the Transportation and Traffic Organization in the city and was waiting to attract investors. Although he said that this plan "will be implemented soon", but a year after this promise, there is still no news of shared bicycles.
If you want to use shared bikes, you can sign the campaign here. If the number of supporters reaches 1000 signatures, the follow-up of the matter from the relevant organizations will be on the agenda of "Fares Man".
end of message/
You can edit this article

Suggest this article for the first page