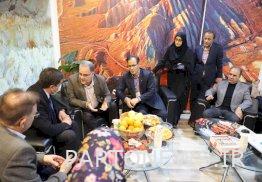 According to the Aria Heritage report, citing the public relations of the General Directorate of Cultural Heritage, Tourism and Handicrafts of Zanjan, Rajab Of Asr on Tuesday 18th of Bahman 1401 at the 16th International Tourism Exhibition and the 36th Handicrafts Exhibition in Tehran, after visiting the tourism and handicrafts booths of the province, said: Zanjan, due to Derakhesh has been the highlight of holding five Eco Food Festivals – Silk Road, and due to its location on the Silk Road, it is an ideal and suitable place to hold this course again.
Eco tourism manager added: There is diversity, value and cultural originality between governments and member countries of Eco and the Silk Road, which requires synergy and providing the necessary arrangements and infrastructure such as venues, accommodation, welfare affairs, and environmental advertising. And it is necessary to reflect this festival through the media and so on.
He continued: In addition to economic and developmental benefits for the host communities, tourism is an important and effective tool in promoting the culture of peace and friendship between nations.
Zanjan province will host the 6th International Eco-Silk Road Food Festival, which will be held from May 13 to 15 next year.
end of message/