International
Iran
Sardar Hajizadeh: The strength of the resistance has increased thousands of times in the last 3 years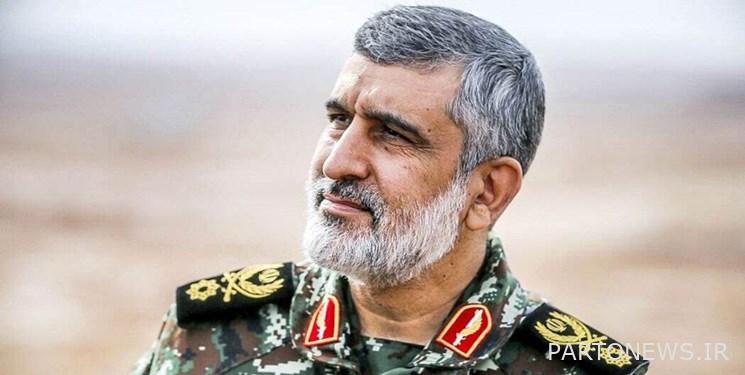 According to the report of Fars News Agency, Sardar Hajizadeh, commander of the Islamic Revolutionary Guard Corps Air Force, said on Tuesday that the strength of the resistance has increased thousands of times three years after the assassination of Soleimani.
He was interviewed by al-Masira news channel and added: "The flag of revenge against the killers of the commanders will remain raised until the destruction of the falsehood and the expulsion of the American forces from the region."
Sardar Hajizadeh added: "The Ansarullah movement under the command of Seyyed Abdul Malik al-Houthi has become a powerful force and an arm of the Yemeni fighters."
The commander of the Islamic Revolution Guards Corps Aerospace Force added: "Ansarullah has become proud by standing up to the great powers and has proven its strength in the field of action."
Lieutenant General Martyr Haj Qassem Soleimani, commander of the Quds Force, and Abu Mahdi Al-Muhandis, deputy of the Iraqi Popular Mobilization Organization, along with their companions, on the way to Baghdad Airport in the morning of Friday, January 13, 2018, in a terrorist attack by the White House and by the order of Donald Trump, the President of the United States, and by firing missiles from the drones of this country's army. They were martyred.
Agnes Callamard, the UN rapporteur on arbitrary and extra-legal killings, stating that the United States of America failed to provide solid documents and evidence about the necessity of attacking the convoy carrying Sardar Soleimani, in her speech at the 44th meeting of the Human Rights Council in July 2019, stated that the assassination The commander of the Quds Force has taken an arbitrary, illegal and violation of human rights. He has also presented this assessment in a written report to the Human Rights Council.
End of message/./ t 6
You can edit this article

Suggest this article for the first page