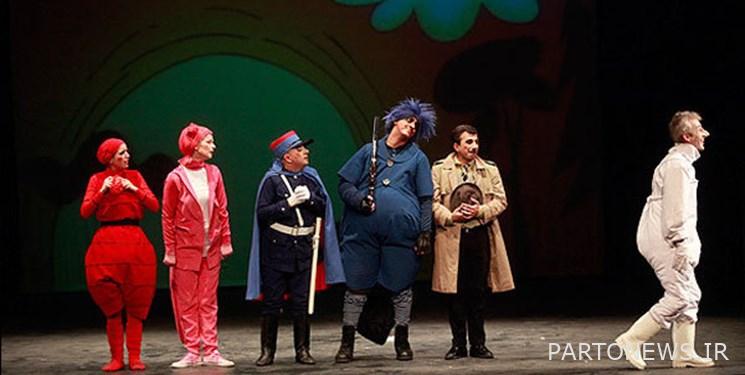 According to the Fars news agency's theater correspondent, at the beginning of the summer, various performances took place in different theaters, some of the most important of which are introduced below:
The play "Another Day" directed by Nadia Faraji will start its work on the second Thursday of July at 7.30 pm in the Shadow Theater of the city.
The play tries to take a free look at fantasy comedy Death by taking a free look at Woody Allen's play "Death is Falling."
In this play, Elahe Pourjamshid and Nadia Faraji are the actors of this play. Also, the other elements of the play "Another Day" are as follows: Mojgan Eivazi (costume designer), Alireza Khezri (stage designer), Atefeh Abizi (makeup designer), Mojtaba Givian (lighting designer), Morteza Barzgazadegan (poster and brochure designer) , Samira Alempanah (text rewriting and public relations manager), Sina Movahedinia (teaser production), Erfan Palidi and Khashayar Shokrani (photographers group), Manada Nateghi (production assistant), Saeed Farokhi, Hassan Bagheri and Reza Forootan (assistant directors) , Arash Jamshidi (Director of Performance and Stage), Arezoo Foroutan (Secretary of Stage).
* The show "Madagascar" is extended until July 3
The play Madagascar, directed by Milad Rakhsh Bahar, which was scheduled to end at the Hilaj Theater on July 1, will also be staged on Thursday and Friday this week.
"Madagascar" is written by Ehsan Norouzi and directed by Milad Rakhsh Bahar, in which Frank Hosseini, Hamed Moghadasi, Alireza Davoodvandi, Mohammad Reza Abangah, Pouya Aram and Alireza Zivari will play the roles and will be on stage until Friday, July 24 at 9 pm.
The play takes a humorous look at the story of four men trapped away from their hometown. Those who escaped a world war and took refuge in a safe place in the mountains are arrested and interrogated with a misunderstanding.
"Do not go" show at Malek Theater
The play "Not Going", co-directed by Hamed Jalali Farahani and Mojtaba Vashian, is scheduled to be staged at the Malek Theater on the second Thursday of July, 1401.
The play tells the story of a family who get involved in the day-to-day problems of their community while planning to leave the community and emigrate.
In this play, Mehdi Safari, Sanaz Roshani, Sepehr Mahmoudi, Zahra Hami, Farshad Nasiri and Mahkameh Ziaei will play roles.
Concert Mapping Show – Show "Thirty Hundred" in Saadabad Palace *
The play "Three Hundred" is a work by Sohrab Pournazeri, directed by Amir Jadidi and composed by Tahmours Pournazeri, and voiced by Reza Bahram and produced by Hossein Tutunchian, which will be performed in July at Saadabad Palace.
In this play, which narrates the Mongol invasion of Neishabour and the story of the book burning, actors such as Ali Nasirian, Rezakianian, Javad Ezzati, Tanaz Tabatabai, Mehran Ghafourian, Delonia Aram, Manouchehr Alipour, Erfan Naseri and Nima Sokoot are present.
End of message / T130
Suggest this for the front page