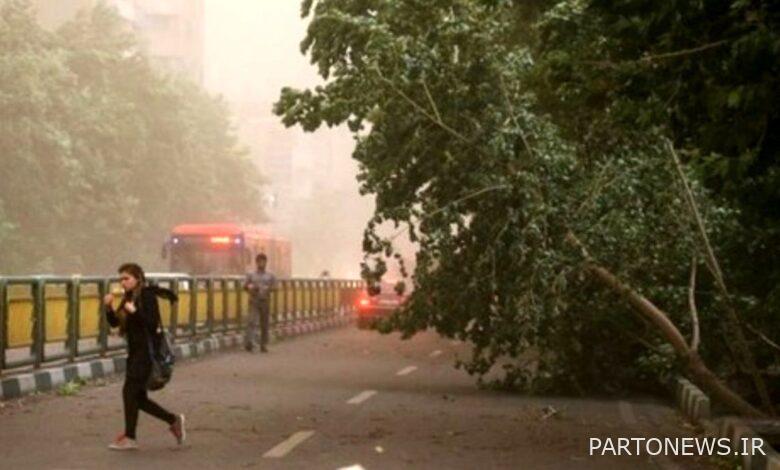 According to Moj News Agency, General Administration Meteorology Tehran province issued an orange level warning against strong to very strong winds, momentary gusts and rising dust in the province in the next two days.
These conditions on Saturday and Sunday afternoon in Tehran province will cause dust to rise, temporarily reduce visibility and air quality, affect dust-sensitive equipment, fall objects from a height, and possibly damage equipment located at a height such as power transformers, power towers, and telecommunications.
The blowing of this strong wind also "possibility of falling high construction equipment such as high cranes as well as temporary and loose structures such as scaffolding and advertising banners, breaking old and worn out trees and saplings, damage to the cover of greenhouses, especially on Sunday, the possibility of a momentary storm" in finds out
The General Directorate of Meteorology of Tehran Province has predicted that these conditions will occur on Monday in the western and southern half of the province and in the highlands, especially in the northeast.
This general administration has advised the elderly, children and people with heart and respiratory diseases to refrain from traveling outdoors and construction workers to observe safety tips for scaffolding and equipment located at height and high construction equipment.
It is also recommended not to climb to heights, the strength of weak and temporary structures, observing safety precautions for scaffolding and equipment located at height and high construction equipment, not being placed in high places such as scaffolding, ensuring the strength of temporary and weak structures and banners. Advertisements and awnings, no traffic next to the mentioned structures, no parking next to the trees, and the readiness of rescuers and relevant organizations.